Asset Management
Market Strategy 11/04/2019
So Keep on Rockin' Me Baby
Stocks rally on relentlessly better if not robust economic and corporate fundamentals
Any progress in trade talks is likely to garner investors' attention as earnings season moves toward its conclusion.
Last week's economic data on jobs, consumer confidence, GDP and inflation underscored the resilience of the US economy in times of trade war as a result of its consumers, rather than on manufacturing or trade, driving results.
While Q3 earnings season has thus far been better than expected, estimates for the full 2019 year have now been cut just 7% since December 31, 2018 when markets were still reeling from the selloff in the fourth quarter of last year.
A confluence of better than expected economic data, Q3 earnings results, and a third 25 basis point rate cut by the Federal Reserve Board along with some encouraging missives surrounding trade talk progress helped push stocks higher stateside and worldwide last week (see pages 9 through 11 of this report for details
The economic landscape stateside in our view persists strong enough for positive data points to continue to offset negative data points when they cross the transom and overwhelm bearish projection pointing instead to an underlying resilience of an economy that is predominantly dependent on the consumer rather than on manufacturing in midst of a global trade war.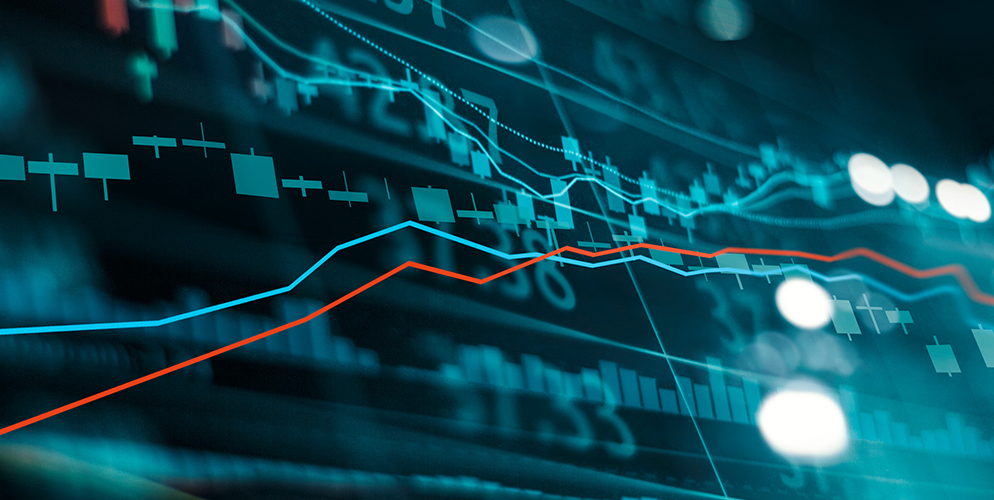 While some 20 months of the trade fracas between the US and China has raised concerns and delayed plans and investment among many businesses, it so far has weighed much less on the US consumer even as sentiment has somewhat softened (see details of last week's economic data flow on pages 6 and 7 of this report).
Low inflation, low interest rates, increased hiring, modest wage growth and a strong dollar (the latter helping to offset at least some of the higher costs of imports affected by tariffs) have resulted in an extension of an economic scene that creates an environment good enough for the economy to move ahead (albeit at a relatively modest pace) and supportive enough for stocks to have continued climbing the proverbial wall of worry and grind higher to the repeated consternation of bears and skeptics.
Quotation from Aenean Pretium
Our mantra of "no boom, no bubble, no bust, I'll take it" stands for now..
Taken in context of the 19.78% decline in the price of the S&P 500 that occurred in 2018's fourth quarter (driven by what we believe was erroneous and negative projections about monetary policy, the drop in the price of oil, and fear that difficult trade negotiations would disrupt the world economy interminably), the venerable benchmark in 2019 has taken a roundtrip back to where it once belonged and then some.
In such context the S&P 500's run-up of 22.3% from the start of this year and 30.45% from the December 24th low through last Friday's close, shows few if any signs of irrational exuberance or animal spirits but rather a market whose drivers reflect a period of economic history marked by extraordinary innovations in technology, the process of globalization and monetary policy stateside highly sensitive to both strengths and vulnerabilities in the economy.
We're Not Out of the Woods Yet
In this new week we look for market participants to become increasingly focused on issues surrounding prospects of impeachment, political wrangling stateside ahead of the 2020 election, progress in trade negotiations, and another week of Q3 earnings.
We believe that the trade war is headed toward some kind of "Phase One" resolution as both sides allow reason to overcome ideological differences that are diametrically opposed and permit cooler heads to prevail. Failure to find a common ground on which an agreement could be reached would increasingly cost both sides and their trading partners much more than the acrimony of tariff hostilities are worth.
Meanwhile, Back on the Ranch…
We remain overweight US equities while maintaining meaningful exposure to developed and emerging international equity markets. Our expectations are that an improvement in trade relations between the US and China will substantially benefit international economies, particularly those dependent on exports.
Bonds on a broad and global basis remain richly valued in our view considering how low yield levels are from both nominal and real perspectives. That said, our expectations are for rates to rise only modestly when they do trend higher as inflation is likely to remain modest, kept in check by disinflationary secular trends driven by technology and globalization that lower barriers of entry to competition worldwide, limit commodity price gains, and contain wage growth inflation.
Our mantra of "no boom, no bubble, no bust, I'll take it" stands for now.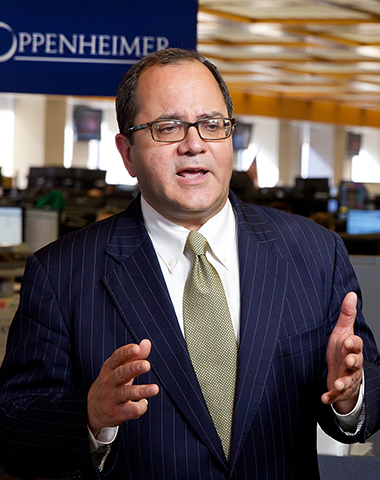 Name:
John Stoltzfus
Title:
Chief Investment Strategist, Oppenheimer Asset Management Inc.
John is one of the most popular faces around Oppenheimer: our clients have come to rely on his market recaps for timely analysis and a confident viewpoint on the road forward. He frequently lends his expertise to CNBC, Bloomberg, Fox Business, and other notable networks.
/asset-management/john-stoltzfus.aspx
Other Disclosures
This report is issued and approved by Oppenheimer & Co. Inc., a member of all Principal Exchanges, and SIPC. This report is distributed by Oppenheimer & Co. Inc., for informational purposes only, to its institutional and retail investor clients. This report does not constitute an offer or solicitation to buy or sell any securities discussed herein in any jurisdiction where such offer or solicitation would be prohibited. The securities mentioned in this report may not be suitable for all types of investors. This report does not take into account the investment objectives, financial situation or specific needs of any particular client of Oppenheimer & Co. Inc. Recipients should consider this report as only a single factor in making an investment decision and should not rely solely on investment recommendations contained herein, if any, as a substitution for the exercise of independent judgment of the merits and risks of investments. The strategist writing this report is not a person or company with actual, implied or apparent authority to act on behalf of any issuer mentioned in the report. Before making an investment decision with respect to any security discussed in this report, the recipient should consider whether such investment is appropriate given the recipient's particular investment needs, objectives and financial circumstances. We recommend that investors independently evaluate particular investments and strategies, and encourage investors to seek the advice of a financial advisor. Oppenheimer & Co. Inc. will not treat non-client recipients as its clients solely by virtue of their receiving this report. Past performance is not a guarantee of future results, and no representation or warranty, express or implied, is made regarding future performance of any security mentioned in this report. The price of the securities mentioned in this report and the income they produce may fluctuate and/or be adversely affected by exchange rates, and investors may realize losses on investments in such securities, including the loss of investment principal.
Oppenheimer & Co. Inc. accepts no liability for any loss arising from the use of information contained in this report. All information, opinions and statistical data contained in this report were obtained or derived from public sources believed to be reliable, but Oppenheimer & Co. Inc. does not represent that any such information, opinion or statistical data is accurate or complete and they should not be relied upon as such. All estimates and opinions expressed herein constitute judgments as of the date of this report and are subject to change without notice. Nothing in this report constitutes legal, accounting or tax advice. Since the levels and bases of taxation can change, any reference in this report to the impact of taxation.
Investment Strategy should not be construed as offering tax advice on the tax consequences of investments. As with any investment having potential tax implications, clients should consult with their own independent tax adviser.

This report may provide addresses of, or contain hyperlinks to, Internet web sites. Oppenheimer & Co. Inc. has not reviewed the linked Internet web site of any third party and takes no responsibility for the contents thereof. Each such address or hyperlink is provided solely for the recipient's convenience and information, and the content of linked third party web sites is not in any way incorporated into this document. Recipients who choose to access such third-party web sites or follow such hyperlinks do so at their own risk. The S&P 500 Index is an unmanaged value-weighted index of 500 common stocks that is generally considered representative of the U.S. stock market. The S&P 500 index figures do not reflect any fees, expenses or taxes. This research is distributed in the UK and elsewhere throughout Europe, as third party research by Oppenheimer Europe Ltd, which is authorized and regulated by the Financial Conduct Authority (FCA). This research is for information purposes only and is not to be construed as a solicitation or an offer to purchase or sell investments or related financial instruments. This report is for distribution only to persons who are eligible counterparties or professional clients and is exempt from the general restrictions in section 21 of the Financial Services and Markets Act 2000 on the communication of invitations or inducements to engage in investment activity on the grounds that it is being distributed in the UK only to persons of a kind described in Article 19(5) (Investment Professionals) and 49(2) High Net Worth companies, unincorporated associations etc.) of the Financial Services and Markets Act 2000 (Financial Promotion) Order 2005 (as amended). It is not intended to be distributed or passed on, directly or indirectly, to any other class of persons. In particular, this material is not for distribution to, and should not be relied upon by, retail clients, as defined under the rules of the FCA. Neither the FCA's protection rules nor compensation scheme may be applied. This report or any portion hereof may not be reprinted, sold, or redistributed without the written consent of Oppenheimer & Co. Inc. Copyright © Oppenheimer & Co. Inc. 2019.