Asset Management
Market Strategy 9/8/2020
Every Form of Refuge Has its Price
Last week's market action reminds investors of the importance of diversification
Key Takeaways
A confluence of factors interrupted a powerful stock rally from the March 23 lows but not likely for long.
With just 56 days until the November 3 US election investors can expect campaign rhetoric to increasingly garner attention and stir sentiment that could affect market performance on a day to day basis.
Markets have shown over recent history that like water they will find the path of least resistance to determine their direction.
Last week's key economic data showed a decline in initial jobless claims and an increase in nonfarm payrolls. Two purchasing manager surveys showed that demand remains strong even as supply bottlenecks hamper current output.
We reference lyrics by the Eagles this week as investors and observers parse through the causes of last week's sell-off in tech that cost the S&P 500 a 2.31% decline on the week and a 3.27% drop for the tech-laden NASDAQ Composite (over 40% weighted in tech and techrelated stocks).
Some say last week's sell off was related to sizeable option writing and counterparty offsets. Others blame valuations that some thought were beyond stretched by most metrics in a relatively narrow group of tech stocks.
For the past few weeks we had noted that a trim or a haircut (something less than a 10% correction) was likely in the cards for the market given how far and how fast it had advanced. Last week the Wall Street adage "Trees don't grow to the sky" found a catalyst (if not several) to hang its hat on.
The backdrop
The stock market rally that emerged like a phoenix from the oversold low on March 23rd of this year had taken the S&P 500 and the NASDAQ respectively 60.05% and 75.7% higher through September 2nd when both closed at their latest record highs.
Quotation from Aenean Pretium
Our experience as professional investors over nearly four decades in the markets tells us that it's not so much what the politicians say that counts as what they do when they get into office.
The catalyst whether it was speculative options activity by inexperienced players; or caused by options contracts engaged in by an institutional "whale-sized" foreign investor; or stretched valuations within technology; Covid-19 risks; economic uncertainties exacerbated by the Congressional stalemate in Washington over a next rescue package; or Presidential election outcome worries; or a seasonally adjusted nonfarm payroll jobs number; enough of the aforementioned came together to create a window of opportunity for nervous investors, short-term traders, skeptics, bears and those of other stripes to take some profits after an extended run-up in stock prices without having to worry about "FOMO" (Fear of Missing out).
Investors returning from the holidays to their computer screens will focus on whether or not last week's selling will abate or if perhaps stocks will rally or simply rotate and rebalance in place—causing equities to take a breather and move side-ways in the near term before determining the direction of their next move. As of last Friday's close the S&P 500 and the NASDAQ Composite respectively stood 53.17% and 64.09% higher from their March 23 lows and 6.07% and 26.09% higher from the start of the year.
With just one company in the S&P 500 left to report results in Q2 earnings season, we expect the Presidential election, Covid-19, geopolitical news, economic data along with company or sector specific breaking news to be more than enough to keep investors busy this week.
For Americans, Election Day is just 56 days away. With the Democratic and Republican conventions quickly fading in the rear-view mirror both sides (regardless of what the pollsters and political pundits say) will be ramping up their efforts to garner the votes of their respective constituencies and of yet undecided voters.
We are asked by both institutional and private investors as to what we expect the outcome will be as well as how we would expect the market to react to a victory of either party.
Promises, Promises
Our experience as professional investors over nearly four decades in the markets tells us that it's not so much what the politicians say that counts as what they do when they get into office.
Experience tells us that there is no easy solution in politics historically or in how things are today. There is no "free hall pass" or "free lunch" in politics— everything offered from either side has a price that the citizenry will wind up paying to different degrees.
Like life and like the markets the results of the election over the four years from Inauguration Day through the end of a four-year term and how the markets will navigate them will be determined by a host of factors that include politics, geopolitics, domestic and global economics, demographics, monetary policy, and ideological differences. The dynamics that drive these factors come mostly from outside the White House and Congress. The office holders' response is what makes the difference as to the result on many levels including to some degree that pertaining to the markets.
From a market strategy perspective the role of our elected officials is to create policies that can foster and promote equality, fairness, public safety, job growth, innovation and responses to challenges from inside and outside the country's borders.
While monetary policy set by the Federal Reserve in our view matters most to the markets, fiscal policy is set by elected officials and can affect sentiment and decisions within the business community on both Wall Street and on Main Street, and among workers and society in general.
In a capitalist society a healthy business environment can be good for workers and the society as a whole. Over the past 11 years the markets have done well over the course of two terms of the Obama administration and currently through the first term of the Trump administration.
Presidential elections often present a cross roads opportunity for voters to select who will make decisions that will broadly affect their lives broadly and even financially. The markets have shown over recent history that like water they will find the path of least resistance to determine their direction.
That said every vote counts.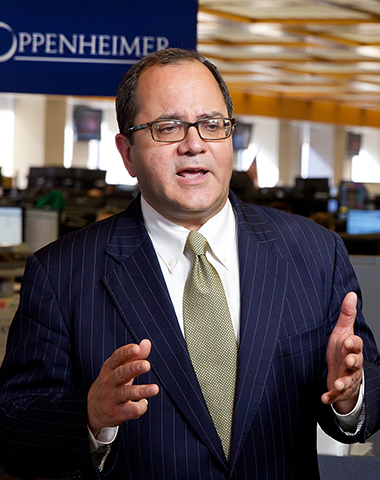 Name:
John Stoltzfus
Title:
Chief Investment Strategist, Oppenheimer Asset Management Inc.
John is one of the most popular faces around Oppenheimer: our clients have come to rely on his market recaps for timely analysis and a confident viewpoint on the road forward. He frequently lends his expertise to CNBC, Bloomberg, Fox Business, and other notable networks.
/asset-management/john-stoltzfus.aspx
OTHER DISCLOSURES
This report is issued and approved by Oppenheimer & Co. Inc., a member of all Principal Exchanges, and SIPC. This report is distributed by Oppenheimer & Co. Inc., for informational purposes only, to its institutional and retail investor clients. This report does not constitute an offer or solicitation to buy or sell any securities discussed herein in any jurisdiction where such offer or solicitation would be prohibited. The securities mentioned in this report may not be suitable for all types of investors. This report does not take into account the investment objectives, financial situation or specific needs of any particular client of Oppenheimer & Co. Inc. Recipients should consider this report as only a single factor in making an investment decision and should not rely solely on investment recommendations contained herein, if any, as a substitution for the exercise of independent judgment of the merits and risks of investments. The strategist writing this report is not a person or company with actual, implied or apparent authority to act on behalf of any issuer mentioned in the report. Before making an investment decision with respect to any security discussed in this report, the recipient should consider whether such investment is appropriate given the recipient's particular investment needs, objectives and financial circumstances. We recommend that investors independently evaluate particular investments and strategies, and encourage investors to seek the advice of a financial advisor. Oppenheimer & Co. Inc. will not treat non-client recipients as its clients solely by virtue of their receiving this report. Past performance is not a guarantee of future results, and no representation or warranty, express or implied, is made regarding future performance of any security mentioned in this report. The price of the securities mentioned in this report and the income they produce may fluctuate and/or be adversely affected by exchange rates, and investors may realize losses on investments in such securities, including the loss of investment principal.
Oppenheimer & Co. Inc. accepts no liability for any loss arising from the use of information contained in this report. All information, opinions and statistical data contained in this report were obtained or derived from public sources believed to be reliable, but Oppenheimer & Co. Inc. does not represent that any such information, opinion or statistical data is accurate or complete and they should not be relied upon as such. All estimates and opinions expressed herein constitute judgments as of the date of this report and are subject to change without notice. Nothing in this report constitutes legal, accounting or tax advice. Since the levels and bases of taxation can change, any reference in this report to the impact of taxation.
Investment Strategy should not be construed as offering tax advice on the tax consequences of investments. As with any investment having potential tax implications, clients should consult with their own independent tax adviser.

This report may provide addresses of, or contain hyperlinks to, Internet web sites. Oppenheimer & Co. Inc. has not reviewed the linked Internet web site of any third party and takes no responsibility for the contents thereof. Each such address or hyperlink is provided solely for the recipient's convenience and information, and the content of linked third party web sites is not in any way incorporated into this document. Recipients who choose to access such third-party web sites or follow such hyperlinks do so at their own risk. The S&P 500 Index is an unmanaged value-weighted index of 500 common stocks that is generally considered representative of the U.S. stock market. The S&P 500 index figures do not reflect any fees, expenses or taxes. This research is distributed in the UK and elsewhere throughout Europe, as third party research by Oppenheimer Europe Ltd, which is authorized and regulated by the Financial Conduct Authority (FCA). This research is for information purposes only and is not to be construed as a solicitation or an offer to purchase or sell investments or related financial instruments. This report is for distribution only to persons who are eligible counterparties or professional clients and is exempt from the general restrictions in section 21 of the Financial Services and Markets Act 2000 on the communication of invitations or inducements to engage in investment activity on the grounds that it is being distributed in the UK only to persons of a kind described in Article 19(5) (Investment Professionals) and 49(2) High Net Worth companies, unincorporated associations etc.) of the Financial Services and Markets Act 2000 (Financial Promotion) Order 2005 (as amended). It is not intended to be distributed or passed on, directly or indirectly, to any other class of persons. In particular, this material is not for distribution to, and should not be relied upon by, retail clients, as defined under the rules of the FCA. Neither the FCA's protection rules nor compensation scheme may be applied. This report or any portion hereof may not be reprinted, sold, or redistributed without the written consent of Oppenheimer & Co. Inc. Copyright © Oppenheimer & Co. Inc. 2020.