Investment Banking
Lead Bookrunner for SimulationsPlus
August 2020
Oppenheimer & Co. Inc. acted as the Lead Bookrunner on a $115,000,000 Follow-On Offering for SimulationsPlus, Inc. (NASDAQ "SLP")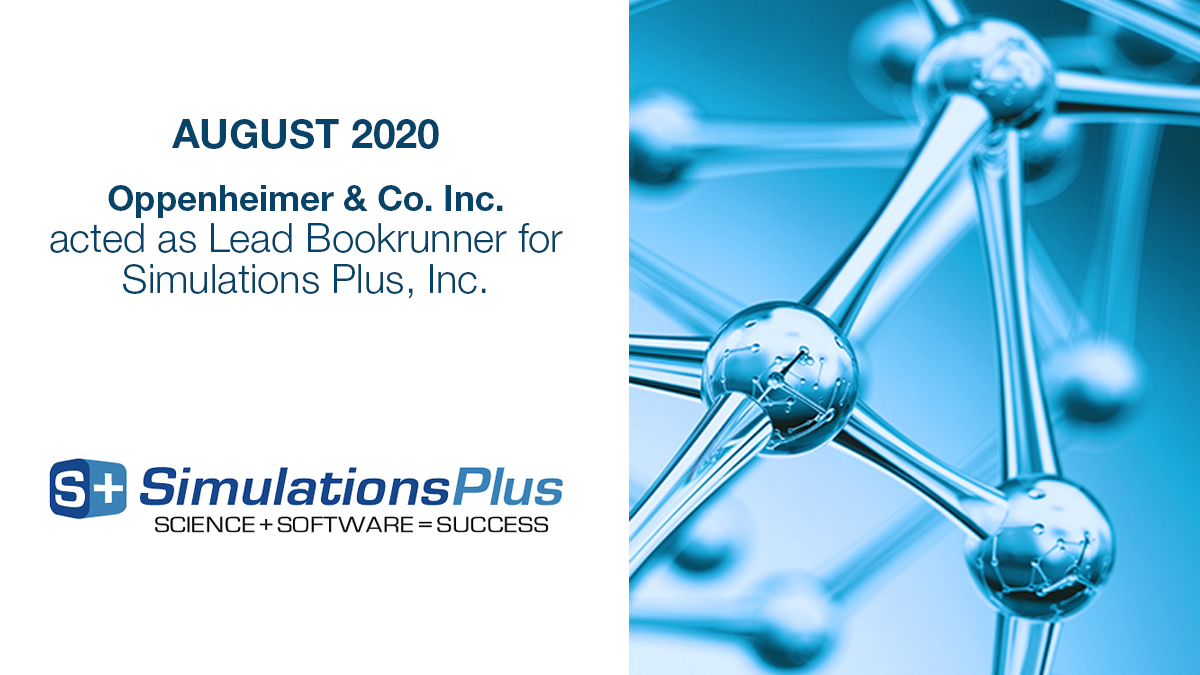 Simulations Plus. Inc. is a premier developer of drug discovery and development software as well as a leading provider of both preclinical and clinical pharmacometric consulting services for regulatory submissions and quantitative systems pharmacology/toxicology models for drug-induced liver injury and nonalcoholic fatty liver disease. The company is a global reader focused on improving the ways scientists use knowledge and data to predict the properties and outcomes of pharmaceutical, biotechnology, and chemical agents. Our software is licensed to and used in the conduct of research by major pharmaceutical, biotechnology, chemical, consumer goods companies, and regulatory agencies worldwide. Our innovations in integrating new and existing science in medicinal chemistry, computational chemistry, artificial intelligence, pharmaceutical science, biology, and physiology into our software have made us the leading software provider for molecular property prediction from structure and physiologically based pharmacokinetic modeling and simulation.
For more information please contact:
DISCLOSURES
This notice is provided for informational purposes only, and is not intended as a recommendation or an offer or solicitation for the purchase or sale of any security or financial instrument. Nothing contained herein shall constitute an offer or solicitation to buy or sell any securities discussed herein in any jurisdiction where such offer or solicitation would be prohibited.

This notice may contain statistical data cited from third-party sources believed to be reliable, but Oppenheimer & Co. Inc. does not represent that any such third-party statistical information is accurate or complete, and it should not be relied upon as such. All market prices, data and other information are not warranted as to completeness or accuracy and are subject to change without notice.
2020 Oppenheimer & Co. Inc. Transacts Business on all Principal Exchanges and Member SIPC