Wealth Management
Meet Our 2020 Forbes/Shook Top Next-Gen Wealth Advisors
Oppenheimer Financial Advisors are named on the definitive list of advisors who represent the future of the wealth management industry.
We are pleased to announce that five Oppenheimer Financial Advisors have the honor of being named in Forbes' definitive list of Top Next-Gen Wealth Advisors (pictured below from left to right: Justin Gelbman, Joshua Hayes, Chris Lazos, Andrew Lerner, and Logan Shalmi). This Forbes/SHOOK's Ranking is the definitive list of our industry's top 500 rising advisors who help manage over $1 trillion in client assets. According to R.J. Shook, President, SHOOK Research and a Forbes Contributor, those who make this list are "the stewards for their clients and their next generations, and those who will help mold the direction of Wealth Management."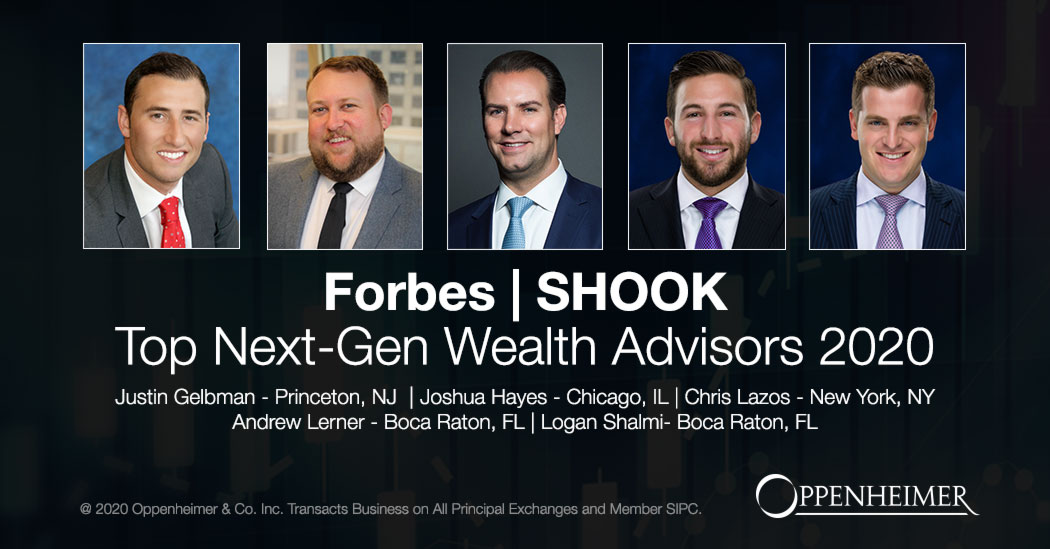 Advisors are nominated by their firm based on the strictest criteria. They are then evaluated, quantitatively and qualitatively, on factors including compliance records, client retention, revenues produced, and assets managed, then vetted and ranked by SHOOK Research.
Click here for the Top Next-Gen Wealth Advisors list.
Disclosure
Awards Criteria

Oppenheimer & Co. Inc. (Oppenheimer), a principal subsidiary of Oppenheimer Holdings Inc. (OPY on the New York Stock Exchange), and its affiliates provide a full range of wealth management, securities brokerage and investment banking services to high-net-worth individuals, families, corporate executives, local governments, businesses and institutions.