Investment Banking
Life Sciences 2020 Year in Review
This time last year all eyes were on the U.S. elections and the potential volatility they might bring especially with bipartisan support for health care reform and prescription drug price controls. In reality, 2020 was defined by the growing COVID-19 crisis and the enormous impact it would have on society and more specifically, the healthcare industry.
In March as the market melted down, life science stocks remained more resilient and had a much sharper V-shaped recovery than the overall market. There were a number of factors behind the outperformance, chief among them was the massive rotation of capital away from sectors like banks, energy and utilities, travel and hospitality, and REITS. The flight from industries in jeopardy forced investment dollars into healthcare stocks. At the same time, the biotech industry was seen as a potential solution as a steady stream of announcements came from many companies wanting to put their hat into the COVID ring. As John F. Kennedy so aptly put it, "In a crisis, be aware of the danger--but recognize the opportunity."
By April, the narrative surrounding life science and biotech companies had dramatically changed. In essence, a reset button had been pushed; a reset that the industry had sorely needed for a number of years. The talk of price controls and tightening reimbursement gave way to discussions of what could be done and how fast the industry could respond to the COVID challenge. Investment dollars, federal funds and private grants began to flow into the industry from all over the world leading to heightened investor interest. As a result, by all measures, 2020 was an amazing year for life sciences with strong returns, wide-open IPO, SPAC and follow-on markets and a continued robust M&A environment for both small and large companies. Most importantly, the global industry came together to develop, manufacture and distribute two vaccines based around novel mRNA technology as well as create several therapeutics that have been invaluable in the fight against the pandemic. This robust market activity and string of industry successes created broad interest in the healthcare space from specialists, generalists and retail investors alike.
This year we expect the first 100 days of the Biden presidency to be focused on repairing the fractures in the American political system and to rebuild and broaden Obama care coverage. This should create a relatively quiet environment around pricing and reimbursement. Once there is visibility into when the current crisis will subside and our lives can move toward normality, we could see an increased focus on drug pricing and affordable healthcare.
At Oppenheimer, we focus on providing our clients with valuable and actionable advice especially in complex and volatile periods. We continue to innovate when structuring transactions and deliver high-value content to investors and management teams alike through our frequent KOL and fireside chat events, including Dr Scott Gottlieb who provided our clients with several timely updates during 2020. Throughout the year we continued to expand our healthcare team, adding senior banking and capital markets professionals, and further broadened our product offerings to include a broad range of going public transactions with IPOs, SPACs and reverse mergers. In addition, we continue to leverage Oppenheimer's unique distribution platform which includes over $95 billion in assets under administration in our private client division and a leading institutional sales platform with access to investors in North America, Europe and Israel. Our focus on client needs has led to a steady upswing in our business. Since March 2017, our healthcare team has completed 218 equity transactions with an aggregate value of $18B. In addition, our healthcare advisory business has also been very active. In 2020, we advised on nine transactions across our Healthcare Services, Medical Devices and Life-Sciences teams. Working with our M&A group, we provided advice on sell-side M&A transactions, fairness opinions, and reverse merger transactions. Oppenheimer's leading healthcare equity research group now comprises 11 publishing analysts with over 160 companies under coverage. Our research group excels at finding compelling emerging opportunities in healthcare and remains one of the most respected groups on Wall Street. Investors, executives and industry professionals rely on Oppenheimer's research for its unique insights and in-depth analyses of the world's most advanced technologies.
We continue to be optimistic about the long-term fundamentals in the healthcare space. This pandemic has provided significant momentum and visibility for the life sciences sector. Not only investors but the average person now sees our sector as essential to move past the pandemic and return to normalcy. As we begin 2021, we look forward to providing both existing and new clients strong execution certainty and a platform focused on building and growing relationships.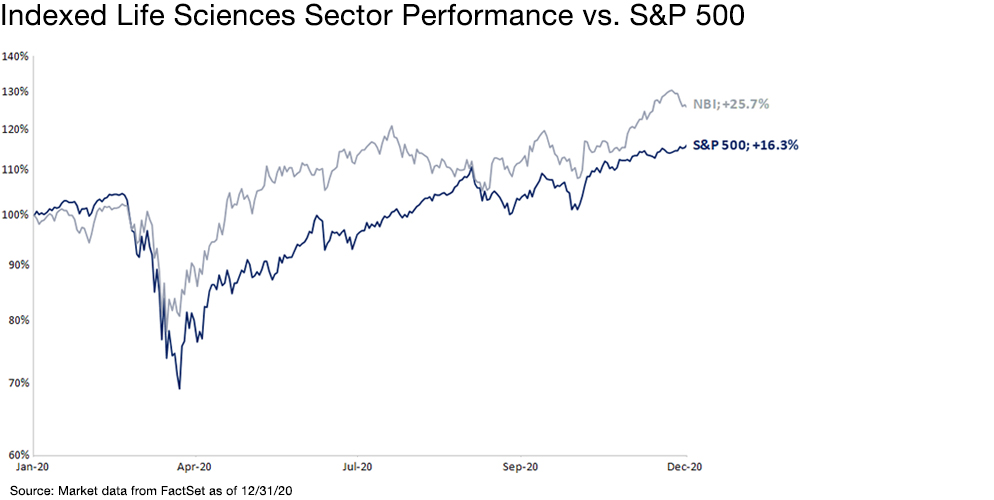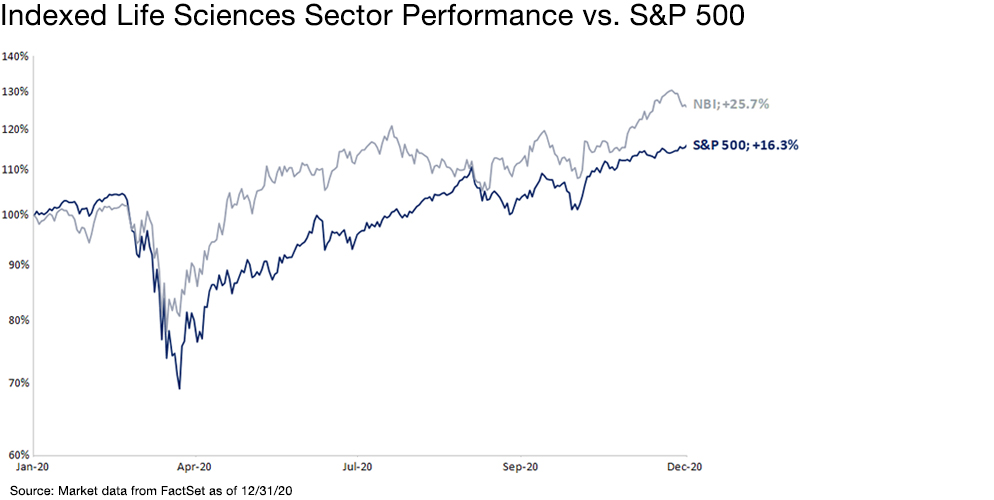 The NBI and S&P reached all-time highs in 2020
Life sciences stocks came into 2020 like a lamb but exited the year like a lion. The year began with the group underperforming broader S&P despite the early noise surrounding COVID-19. When the reality of an oncoming pandemic hit the market, shares dropped alongside the S&P until mid-March when investors realized that biotech was the likely innovator of a solution to the crisis. While it did drop substantially, the life sciences sector quickly diverged from the broader market making a very sharp V-shaped recovery. Almost overnight, a large segment of the S&P suddenly became undesirable investments in those dollars rotated into both technology and life-sciences giving both groups a strong tailwind. The life-sciences group took a bit of a pause in mid-July as investors took profits and rotated back into areas that were hard-hit by COVID in anticipation of a rapid end to the pandemic that never came. A series of acquisitions in early November gave the sector a shot in the arm and reinvigorated investor interest ending the year on a very positive note.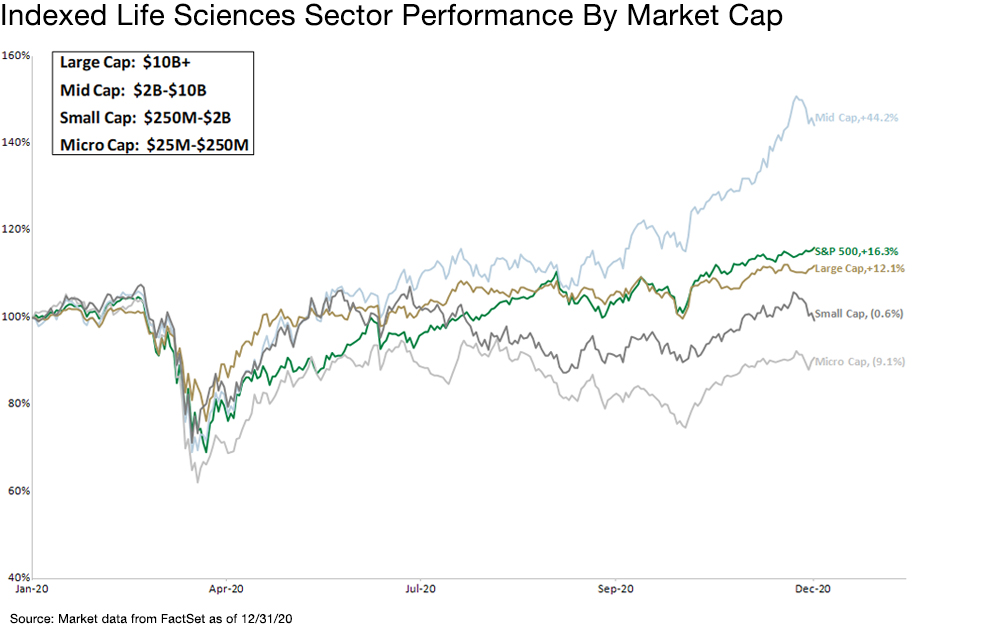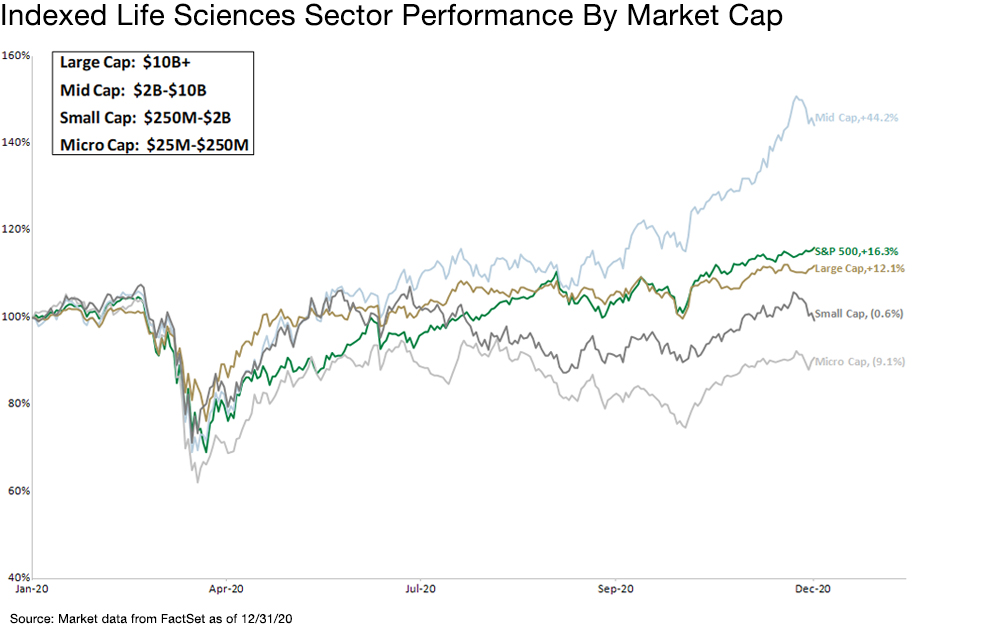 Mid-cap tier jumpers posted the strongest performance in 2020
Once again, 2020 was a year of have and have-nots. Small and micro-cap stocks dramatically underperformed larger companies as economic uncertainty and financing overhangs continued to hinder stock performance. Both small and microcap subgroups lost ground over the course of the year but rebounded from their March lows substantially. One very interesting trend we noticed over the course of the year is that financings that were able to take off overhangs resulted frequently in strong stock price appreciation. Large caps underperformed the S&P for the second year in a row, but posted decent returns. As in 2019, the stars were the mid-cap tier jumpers which were in a steady uptrend since the March lows. Once again, the performance in this group was driven by positive data and a steady that cadence of acquisitions.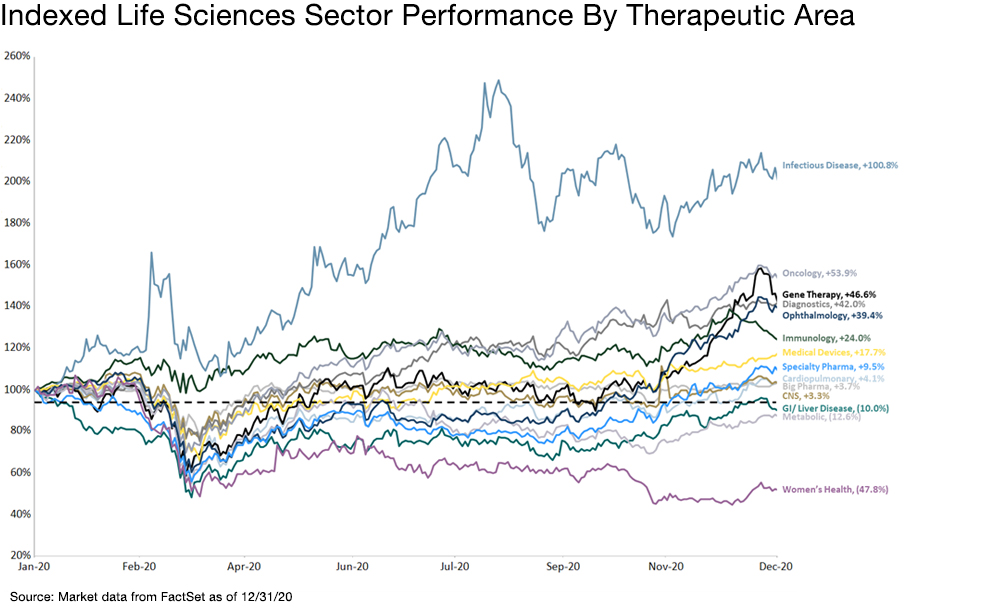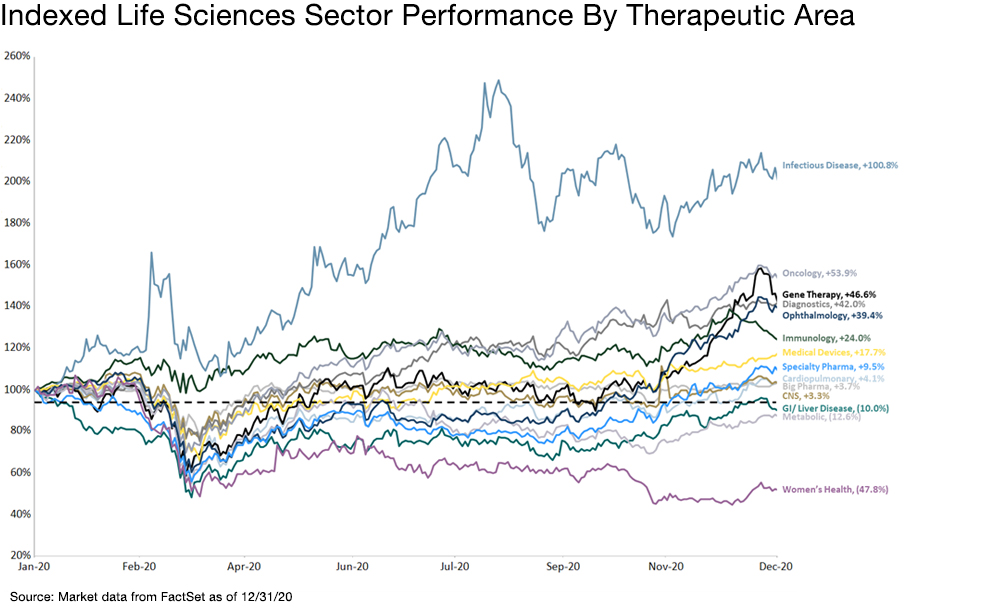 Infectious disease companies outperformed amidst COVID
The strong performance of life sciences equities was broad based across most therapeutic spaces. Not surprisingly, the pandemic brought many infectious disease and diagnostic companies to the forefront leading to very strong subsector returns. Extending its multi-year winning streak, the oncology subsector outperformed driven by strong data and a string of high-priced acquisitions by big pharma and big biotech across the pre-clinical and clinical spectrum. Big Pharma had a rather tepid performance of the year as investors focused on new technologies and potential biotech acquisition targets. On the downside, companies in the liver disease space continued the downward trend that started in November 2019 and the women's health companies never recovered from the COVID dip in March following a number of disappointing product launches and dissolved BD deals.
Follow-on market remains robust and open
After the volatility in early 2020, the follow-on market opened up with the number of deals and average size greater than 2019 levels. The volatile environment made things more challenging for micro and small-cap stocks; however, across market capitalization levels, investor appetite continued for new equity with a focus on opportunities that fund companies through meaningful valuation inflection points.
IPO market open with larger raises and higher valuations
2020 will be remembered as the year the life science IPO with a record number and record total proceeds. While the year began on a somewhat quiet note, the pace of deals continued to accelerate through the end of the year. What is even more remarkable is that roughly 1/3 of the IPOs during the year priced above the range of the initial filing with no IPOs pricing below the range. This type of performance is unprecedented and speaks to the tremendous demand for new life science equity. Over the course of the year, 69(1) life sciences IPOs were priced and aftermarket performance was quite strong. In addition, the popularity of alternative public offerings (APOs) has been on the rise with 2020 seeing a record high in SPAC listings.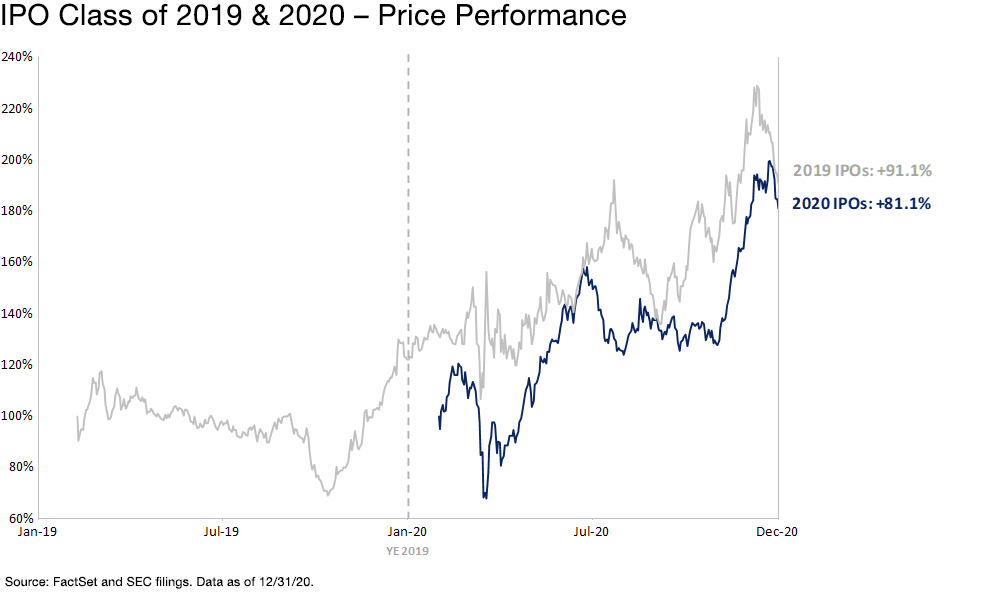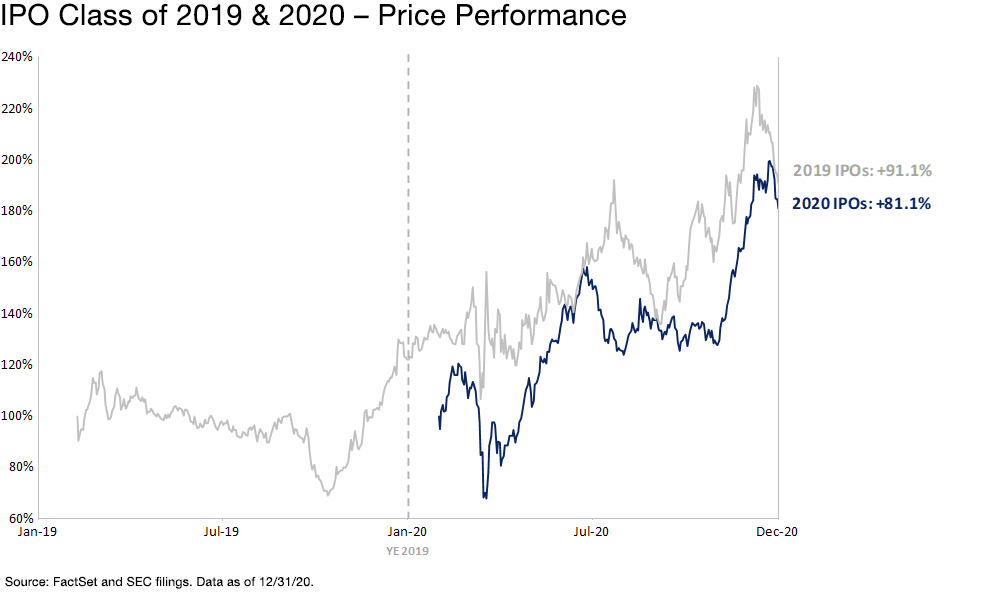 Recent IPOs as an asset class had strong performance in 2020
Life sciences IPOs as an asset class traded above the broader life sciences market with significant volatility throughout 2020 but ending the year on a resounding positive note. As a group, the 2019 IPO class had a median performance above 2020 IPOs with a median price performance of 91.1% compared to 81.1% although they did not perform as well in their debut year. The continued strong performance bodes well for the future appetite of investors or IPO stories with near and mid-term catalysts.
Robust M&A environment despite the pandemic
M&A deal volume grew in 2020 but the average deal size fell over the year. If one excludes the Celgene mega buyout from 2019, the total deal volume fits into a nice growing trend starting in 2017. We anticipate that large and mid-cap companies will continue to bolster their pipelines through acquisitions and the unprecedented capital raised by the industry should help create a steady stream of takeout candidates.
During 2020, we held a number of new and differentiated conferences that brought together industry-leading companies, investors and key opinion leaders in unique settings. Our planned 2021 conferences are listed below and we encourage you to contact your Oppenheimer representative if you are interested in attending any upcoming events.
2021 Upcoming Oppenheimer Healthcare Events:
January 20: Expert Call: Pulsed Field vs. Hybrid AF Ablation in AF Management
January 22: Expert Call: Deep Dive into Durect Corporation's (DRRX) DUR-928 Phase 2a Data in Alcoholic Hepatitis (AH)
January 26: Virtual Fireside Chat: From Bench to Bedside; Deep Dive into True Meaning of Artificial Intelligence (AI) in Healthcare
January 29: Winter Private Company Showcase
February 17: Oppenheimer Healthcare Day
February 22: Expert Call on Atopic Dermatitis' Current Treatment Landscape and Emerging Therapeutic Options
March 16-17: 31st Annual Healthcare Conference
May 25-26: MedTech Summit
September 20-22: Fall Summit Focused on Specialty Pharma, Rare Disease & Gene Therapy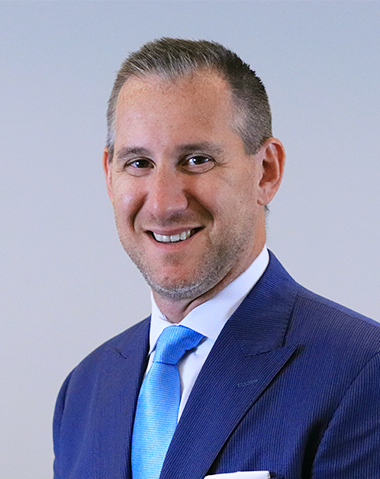 Name:
Michael A. Margolis, R.Ph.
Title:
Co-Head of Healthcare, Head of Healthcare Life Sciences
DISCLOSURE
This document is for discussion purposes only and does not constitute advice of any kind, including tax, accounting, legal or regulatory advice, and Oppenheimer & co. Inc. Is not and does not hold itself out to be an advisor as to tax, accounting, legal or regulatory matters.
The information contained herein was obtained from public sources and was relied upon by Oppenheimer & co. Inc. Without assuming responsibility for independent verification as to the accuracy or completeness of such information. No representation or warranty, express or implied, is made as to the accuracy or completeness of such information and nothing contained herein is, or shall be relied upon as, a representation or warranty, whether as to the past or the future.
Oppenheimer & co. Inc. assumes no obligation to update or otherwise revise these materials.
Oppenheimer & co. Inc.'s research department is required to be independent from its investment banking department, and its research analysts may hold and make statements or investment recommendations that differ from the views of its investment bankers. Further, pursuant to applicable law, Oppenheimer & co. Inc. Is (among other things) precluded from offering favorable research, a specific rating or a specific price target, or threaten to change research, a rating or a price target, as consideration or inducement for the receipt of business or compensation.
Oppenheimer & co. Inc. Transacts business on all principal exchanges and member SIPC 3410951.1