Asset Management
Market Strategy 4/26/2021
Everything's Coming Up Roses?
As the number of vaccines administered stateside has moved higher, business and consumer sentiment has broadly improved from the end of last year.
Key Takeaways
Q1 earnings season continues to exceed expectations with momentum picking up this week as 177 companies in the S&P 500 are scheduled to report results. Thus far with just under 25% of companies having reported, earnings are up 45.3% in Q1.
Last week the S&P 500 closed flat with a slightly negative bias for the week while the S&P 400 midcaps and the Russell 2000 small caps edged higher. In addition, growth outperformed value for a third week in April.
Economic data released last week points towards progress leading to a sustainable economic recovery in the US.
Last week the Conference Board's Leading Economic Indicator had a sizeable increase in March with all ten components showing improvement. New home sales were at their highest levels since 2006 boosted by low interest rates.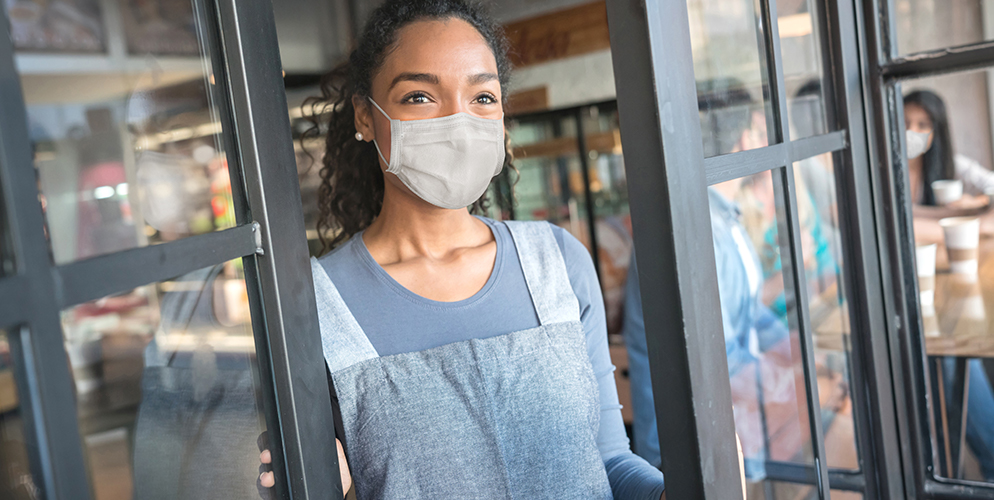 The S&P 500's Q1 earnings season results have added to evidence that the stateside recovery from the pandemic is gaining traction and likely to gather further momentum in the second quarter as well. With 121 companies or just under 25% of the benchmark's components having reported results thus far earnings are up 45.3% on the back of a 5.6% increase in revenue growth.
Recent economic data has improved as well. A number of data points released last week showed improvements in a number of areas including mortgage applications, initial jobless claims, the Conference Board's Leading Economic Indicator, new home sales (highest level since March of 2006), activity in the services sector as tracked by the Markit Services PMI and the Kansas City Federal Reserve's gauge of manufacturing activity.
Global stocks have moved higher this year on improving economic data coming out of the US. Expectations of an economic recovery stateside typically auger positively for global growth to tick higher as economic growth stateside can boost the appetite of both businesses and consumers for imported goods. The dollar's move off its recent high perch suggests to us that the recent slip in the value of the dollar against a number of foreign currencies in some part reflects not only the recent ebbing in the level of the 10-year Treasury yield but also the strength of the US economy reflected in a broad array of data from job growth, initial jobless claims, new home sales, gauges of consumer confidence and a shortage of folks to fill jobs being posted by employers.
At this juncture we do not expect the Federal Reserve to miss its mark when it comes to triggering tapering or even an upward adjustment in its benchmark rates if needed.
This week, 177 S&P 500 companies are scheduled to report earnings results. With the economic calendar laden with data that should provide further clarity on the progress of stateside economic growth the focal point for many investors and observers this week is likely to be the FOMC meeting and the Federal Reserve's rate decision announcement on Wednesday that will be followed by Fed Chair Jerome Powell's customary press conference. Our expectations are for the Fed Chair to reiterate on Wednesday the Fed's commitment to current monetary policy.
The equity market and the bond market are likely to take their directional cues from a mix of not just all of the above this week but for any news that could provide clarity from Washington tied to the Administration's plans on any further stimulus and economic rescue packages.
With the progress that's been made thus far in vaccine distribution along with improvements in the economy including job growth and corporate earnings, concerns about overspending on supersized rescue and social programs while ignoring or scrimping on infrastructure have begun to be acknowledged by denizens of both sides of the aisle as well as their constituencies on Main Street and Wall Street.
In our view higher taxes for corporations and a potential big boost in taxes, particularly for an already highly taxed upper middle income group that is just barely perched on the lower rungs of a highly subjective assumption of what "wealth" in America is today could hurt innovation, entrepreneurship, investment, job growth and the future of the competitive stance and for prosperity for all in the US.
That said, for now the equity markets in our view reflect a continuing capitulation of a bearish overview of stocks and prospects for the economy that has overstayed its welcome among many investors who have been sidelined for as long as since the Great Financial Crisis or more recently since the misread of inflation by the bond market in the fourth quarter of 2018 or since the decline in the equity markets that ran from February 19 through March 23 of last year.
The risk of such capitulations in our experience is on the back end of such action after the capitulation process runs its course over a period of time.
For now the Federal Reserve appears to us to have adapted a policy akin to the old adage attributed to the colonists in the American Revolutionary War of "don't shoot 'til you see the whites of their eyes" when it comes to monetary policy regarding inflation. At this juncture we do not expect the Federal Reserve to miss its mark when it comes to triggering tapering or even an upward adjustment in its benchmark rates if needed. For now the Fed is our friend while as investors we keep a wary eye on political activity on Capitol Hill.
OTHER DISCLOSURES
This report is issued and approved by Oppenheimer & Co. Inc., a member of all Principal Exchanges, and SIPC. This report is distributed by Oppenheimer & Co. Inc., for informational purposes only, to its institutional and retail investor clients. This report does not constitute an offer or solicitation to buy or sell any securities discussed herein in any jurisdiction where such offer or solicitation would be prohibited. The securities mentioned in this report may not be suitable for all types of investors. This report does not take into account the investment objectives, financial situation or specific needs of any particular client of Oppenheimer & Co. Inc. Recipients should consider this report as only a single factor in making an investment decision and should not rely solely on investment recommendations contained herein, if any, as a substitution for the exercise of independent judgment of the merits and risks of investments. The strategist writing this report is not a person or company with actual, implied or apparent authority to act on behalf of any issuer mentioned in the report. Before making an investment decision with respect to any security discussed in this report, the recipient should consider whether such investment is appropriate given the recipient's particular investment needs, objectives and financial circumstances. We recommend that investors independently evaluate particular investments and strategies, and encourage investors to seek the advice of a financial advisor. Oppenheimer & Co. Inc. will not treat non-client recipients as its clients solely by virtue of their receiving this report. Past performance is not a guarantee of future results, and no representation or warranty, express or implied, is made regarding future performance of any security mentioned in this report. The price of the securities mentioned in this report and the income they produce may fluctuate and/or be adversely affected by exchange rates, and investors may realize losses on investments in such securities, including the loss of investment principal.
Oppenheimer & Co. Inc. accepts no liability for any loss arising from the use of information contained in this report. All information, opinions and statistical data contained in this report were obtained or derived from public sources believed to be reliable, but Oppenheimer & Co. Inc. does not represent that any such information, opinion or statistical data is accurate or complete and they should not be relied upon as such. All estimates and opinions expressed herein constitute judgments as of the date of this report and are subject to change without notice. Nothing in this report constitutes legal, accounting or tax advice. Since the levels and bases of taxation can change, any reference in this report to the impact of taxation.
Investment Strategy should not be construed as offering tax advice on the tax consequences of investments. As with any investment having potential tax implications, clients should consult with their own independent tax adviser.

This report may provide addresses of, or contain hyperlinks to, Internet web sites. Oppenheimer & Co. Inc. has not reviewed the linked Internet web site of any third party and takes no responsibility for the contents thereof. Each such address or hyperlink is provided solely for the recipient's convenience and information, and the content of linked third party web sites is not in any way incorporated into this document. Recipients who choose to access such third-party web sites or follow such hyperlinks do so at their own risk. The S&P 500 Index is an unmanaged value-weighted index of 500 common stocks that is generally considered representative of the U.S. stock market. The S&P 500 index figures do not reflect any fees, expenses or taxes. This research is distributed in the UK and elsewhere throughout Europe, as third party research by Oppenheimer Europe Ltd, which is authorized and regulated by the Financial Conduct Authority (FCA). This research is for information purposes only and is not to be construed as a solicitation or an offer to purchase or sell investments or related financial instruments. This report is for distribution only to persons who are eligible counterparties or professional clients and is exempt from the general restrictions in section 21 of the Financial Services and Markets Act 2000 on the communication of invitations or inducements to engage in investment activity on the grounds that it is being distributed in the UK only to persons of a kind described in Article 19(5) (Investment Professionals) and 49(2) High Net Worth companies, unincorporated associations etc.) of the Financial Services and Markets Act 2000 (Financial Promotion) Order 2005 (as amended). It is not intended to be distributed or passed on, directly or indirectly, to any other class of persons. In particular, this material is not for distribution to, and should not be relied upon by, retail clients, as defined under the rules of the FCA. Neither the FCA's protection rules nor compensation scheme may be applied. This report or any portion hereof may not be reprinted, sold, or redistributed without the written consent of Oppenheimer & Co. Inc. Copyright © Oppenheimer & Co. Inc. 2020.