Investment Banking
Exclusive Financial Advisor to CreativeLive Inc.
October 2021
Oppenheimer & Co. Inc. Acted as Exclusive Financial Advisor to CreativeLive Inc. on its sale to Fiverr Inc. (NYSE: FVRR)
Oppenheimer is proud to have acted as exclusive Financial Advisor to CreativeLive Inc. on its sale to Fiverr Inc. (NYSE: FVRR). Having served as an underwriter for Fiverr's 2019 IPO, we are thrilled to have initiated conversations between Creative Live and Fiverr as they enhance Fiverr's mission to support the entire freelance lifestyle through professional education and training. Fiverr's current online learning platform, Fiverr Learn, will be folded into CreativeLive as both teams work to expand following the acquisition. With Fiverr's global audience and capital, plus Creative Live's course catalog and efficient content production capability, we expect to see the emergence of a market-leading solution that benefits all constituents of Fiverr's marketplace.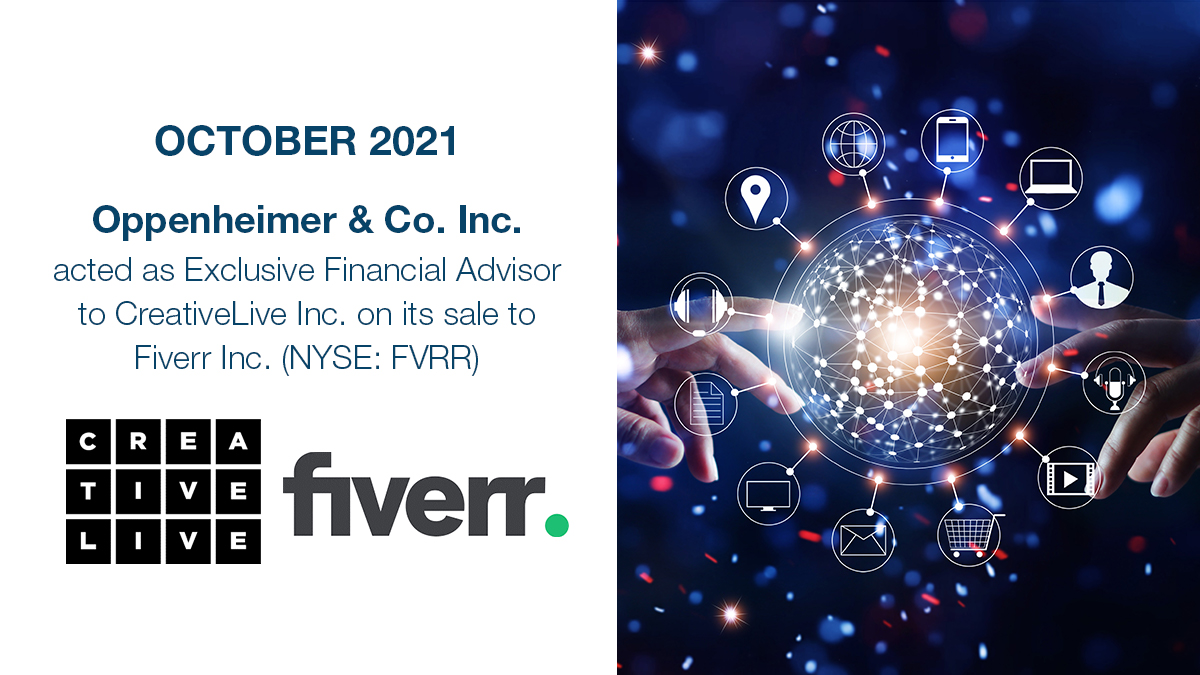 CreativeLive Inc. is a live streaming education website offering more than 2,000 online courses taught by the world's most inspiring talent. Their instructors include New York Times bestselling authors, Pulitzer Prize winners, Emmy nominated directors, and award-winning professionals in the disciplines of photography, design, craft, business & more.
Fiverr Inc. is a global e-commerce platform that allows people to buy and sell freelance services. Their marketplace offers digital marketing, graphics and design, video and animation, writing and translation, and music and audio.
CreativeLive was backed by a premier group of Education Technology VCs and investors including Greylock, GSV Ventures, Social Capital, Industry Ventures, Google Ventures and Comcast Ventures. This transaction represents Oppenheimer's fourth closed Advisory assignment in the Education Technology space in 2021.
DISCLOSURES
This notice is provided for informational purposes only, and is not intended as a recommendation or an offer or solicitation for the purchase or sale of any security or financial instrument. Nothing contained herein shall constitute an offer or solicitation to buy or sell any securities discussed herein in any jurisdiction where such offer or solicitation would be prohibited.

This notice may contain statistical data cited from third-party sources believed to be reliable, but Oppenheimer & Co. Inc. does not represent that any such third-party statistical information is accurate or complete, and it should not be relied upon as such. All market prices, data and other information are not warranted as to completeness or accuracy and are subject to change without notice.
2021 Oppenheimer & Co. Inc. Transacts Business on all Principal Exchanges and Member SIPC 3861703.1