Investment Banking
Lead Bookrunner on the Follow-On Offering of Perion
Perion announced the pricing of a follow-on public offering of 8,372,092 of its ordinary shares, inclusive of the full exercise of the underwriters' option to purchase up to an additional 1,092,012 shares, at the public offering price of $21.50 per share for gross proceeds of $180 million. The offering was upsized from the previously announced offering of $100.0 million.
Perion is a global technology company that delivers holistic strategic business solutions that enable brands and advertisers to efficiently "Capture and Convince" users across multiple platforms and channels, including interactive connected television – or iCTV. Perion achieves this through its Synchronized Digital Branding capabilities, which are focused on high impact creative; content monetization; its branded search network, in partnership with Microsoft Bing; and social media management that orchestrates and optimizes paid advertising. This diversification positions Perion for growth as budgets shift across categories.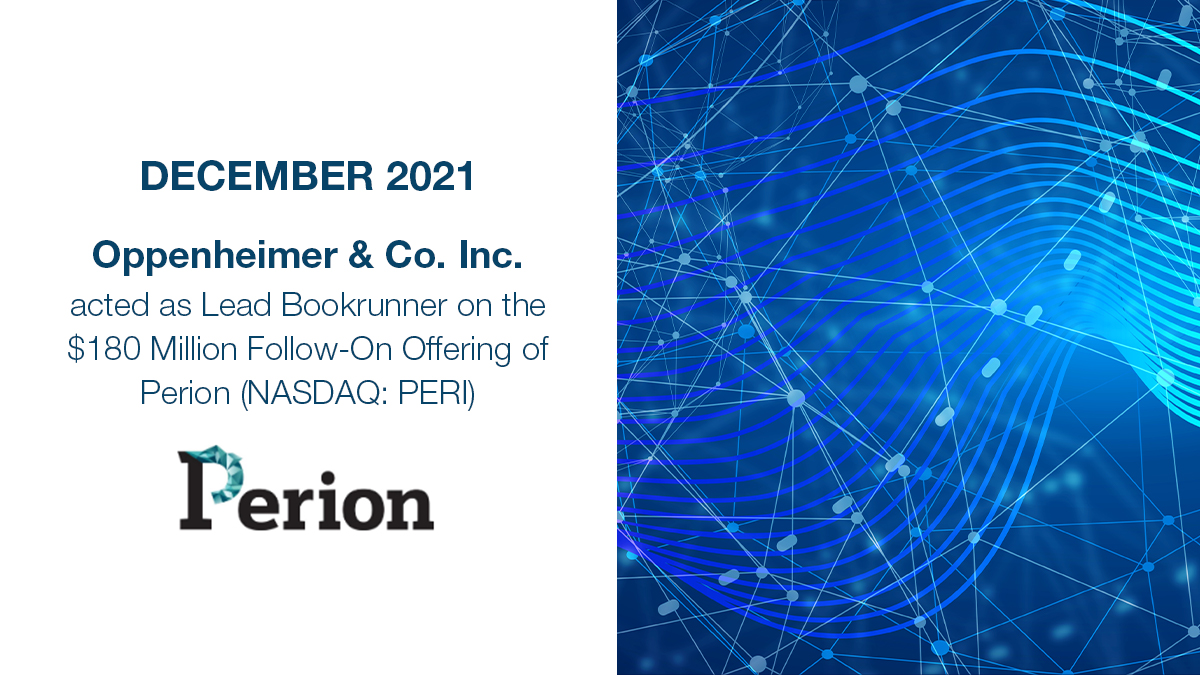 Disclosures
This notice is provided for informational purposes only, and is not intended as a recommendation or an offer or solicitation for the purchase or sale of any security or financial instrument. Nothing contained herein shall constitute an offer or solicitation to buy or sell any securities discussed herein in any jurisdiction where such offer or solicitation would be prohibited.

This notice may contain statistical data cited from third-party sources believed to be reliable, but Oppenheimer & Co. Inc. does not represent that any such third-party statistical information is accurate or complete, and it should not be relied upon as such. All market prices, data and other information are not warranted as to completeness or accuracy and are subject to change without notice.
2021 Oppenheimer & Co. Inc. Transacts Business on all Principal Exchanges and Member SIPC 3966017.1