Asset Management
Market Strategy 9/12/2022
My Goal is Beyond
Long term investors should consider diversification over concentrated positions
Key Takeaways
The broad market advanced on three out of four days last week as investors bid up stocks on expectations that a 75 basis point hike by the Federal Reserve has been priced into the market.

We offer our thoughts on equity diversification and a laddered approach to investing in equities in times like these.
This week a brace of economic data is scheduled for release, including the CPI, PPI, retail sales and the Michigan survey of consumer sentiment will likely garner much attention from market participants.
Last week's data showed business confidence remaining high and claims of unemployment benefits on a downward trend.
We update our forward valuations page and the anatomy of this summer's equity market rally.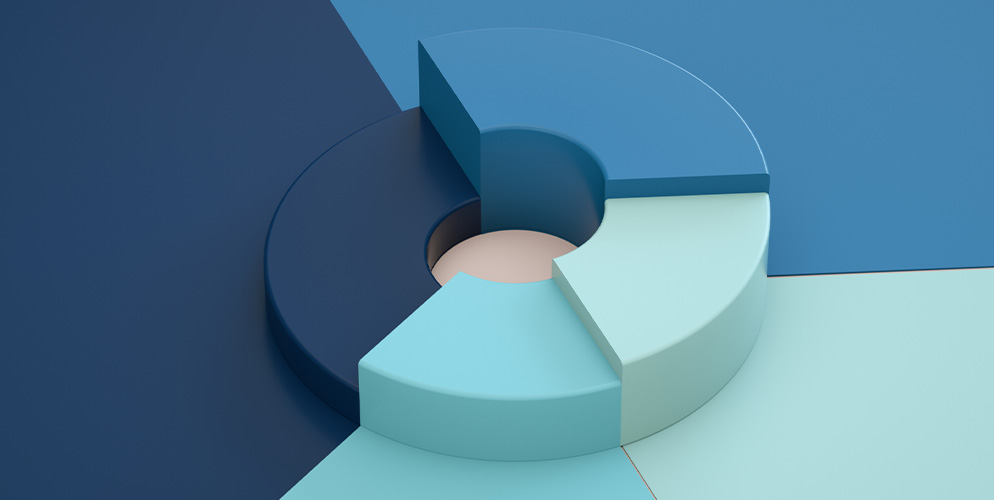 The adage "my goal is beyond" in our view applies readily in times of transitioning economies and markets. When markets get roiled it helps to know what you own, why you own it and have right sized expectations of what kind of performance you can expect to see from different types of exposure among asset classes held in a portfolio.
Considering how what you own in your portfolio will likely react over a transitional period in the economy and the markets is key. We have found a dollop of human psychology and keeping things in context of history to be a useful approach in dealing with market cycles over the years.
It also helps to remember Mark Twain's adage that "history may not repeat itself but it often rhymes." Such discipline can help investors navigate choppy and even stormy waters and avoid an emotional response to a situation that requires more of a business-savvy response.
If a portfolio is suitably positioned to weather a challenging period of time it can even help to "stay put" rather than make a lot of changes, especially when markets are subject to regular rebalancing and repositioning by impatient market players.
Often across the time line of history periods of great darkness and destruction have been followed by periods of great light and advancement.
Accumulating quality stocks and sectors in turbulent times can avoid having to chase stocks and sectors later on after things have notably calmed down.
Ironically periods which in the recent past (such as the Great Financial Crisis and the COVID -19 pandemic) have presented overbearing challenges for investors that turned out in the rear view mirror of time to have presented great opportunity amid significant risk.
Consider the respective headlines at the time of the depth of these aforementioned crises versus how things resolved and consider the performance of the markets over the period. Of course, past performance is no guarantee of future results, but we can't help being reminded of what Mark Twain said.
We recall periods early in our careers speaking with clients who thought the Federal Reserve Board would fail at ending high levels of inflation and other periods when many thought the Fed would fail at reviving economies that had fallen into recessions.
Whether it's been periods of inflation, deflation or disinflation or just roiled markets where negative projection compounds negative sentiment unsettling times have been ameliorated or even resolved by the efforts of central bankers and the response to their efforts by business, labor and the consumer.
When leveraged traders do what they do—strive for winning basis point by basis points and spread by spread in the hours, days and months of unsettling times too often "babies (quality companies) get thrown out with the bath water." We mention this time and time again—great companies with quality leadership, products, cash flow, and profitability get oversold often when markets are roiled.
In our experience we are amazed—when we look back at the negativity investors have too often had to face across economic cycles and the course of market history—only to see outsized negative sentiment eventually ebb (often sooner than either bears or bulls might expect) through changes in the cycle from a variety of unexpected factors (including efforts by central bankers) that emerge to ameliorate trouble and neutralize deconstructive activity and kick off a cycle of recovery and rebuilding.
Often across the time line of history, periods of great darkness and destruction have been followed by periods of great light and advancement. During periods of war and pandemics often major advancements have been made in the battlefields and at the front of a health crisis that result in scientific and technological advancements emerging across a wide number of sectors in the post crisis period that follows.
Among those that come to mind we'd include: the development of airmail when entrepreneurs took note of war planes that had been mothballed after WW1; improved radio transmission developed on the battlefields in WW1 and WW2 benefitted commerce and entertainment in those post war periods; medical advancements in the forms of vaccines for smallpox and polio engendered further applications across healthcare; transport efficiencies developed on the battlefield inspired modern logistics; or GPS developed initially by NASA and the Defense Department engendered advancement in transportation. These are just a few of the changes that altered the way Main Street businesses and the consumer developed and prospered as a result of response necessitated by periods if great challenge.
Whether it was the challenges met by Marie Currie or Jonas Salk, great things come from overbearingly challenging times much like those we live with today. There's no reason to fear times of challenge and run but rather we think it important to consider what needs to be done in facing adversity and for investors to keep an eye out for the opportunities likely to develop.
From a practical standpoint the current Fed Funds hike cycle offers an opportunity for equity (stock) investors to borrow a practice familiar with bond investors particularly in times of rising interest rates by laddering maturities or implied duration in equity portfolios to avoid over-exposure to companies with opportunity sets that imply longer periods of time to become realized.
We also suggest that investors ladder the implied duration of stocks in their portfolios across style (a mix of value and growth), market capitalization (large cap, mid-cap, small cap) and sectors (cyclicals and defensives).
Expanding the process of diversification across equity categories with an eye for implied duration among selected securities we have found can raise exposure to opportunities while managing risk.
Progress not Perfection
A mix and match approach with equities in our view can help intermediate- and longer-term investors navigate a transitional period prone to volatility and two steps forward one step back day to day, week to week repositioning and rebalancing often subject to activity driven by highly leveraged short-term investors.
Avoiding leverage as well as over concentration can make it easier to work through and digest periods of churn and chop in markets like these. Emphasis on quality within a diversified portfolio can help avoid tossing and turning at night.
What to Do in the Current Environment
We suggest intermediate- and longer-term investors consider "layering in" and dollar cost averaging rather than "backing up the truck" during sell-offs when "babies are getting tossed out with the bath water."
Rather than trying to "make a killing" via concentrated positions in rallies that develop in the process of a market working its way out of challenging times we suggest investors consider diversifying across quality sectors with stocks that pay some dividends so "you get paid while you wait" for the potential of capital appreciation.
Total return investing with exposure to stocks that pay dividends and have the potential of share price gains as the economic landscape becomes more favorable makes more sense to us than trying to time the market and winding up chasing stocks further down the road when market timers likely return in droves to bid and chase stocks higher.
DISCLOSURES
Strategist Certification - The author certifies that this investment strategy report accurately states his/her personal views about the subject securities, which are reflected in the substance of this investment report. The author certifies that no part of his/her compensation was, is, or will be directly or indirectly related to the specific recommendations or views contained in this investment strategy report.
The strategy provided in this report is provided by Oppenheimer Asset Management Inc., ("OAM") a registered investment adviser affiliate of Oppenheimer & Co. Inc. ("OPCO"). It reflects analysis of fundamental, macroeconomic and quantitative data to provide investment analysis with respect to U.S. securities markets. The overview in this report is provided for informational purposes and does not constitute an offer to sell, a solicitation to buy, or a recommendation for any security or investment advisory services. The report is not intended to provide personal investment advice. The investments discussed in this report may not be suitable for all investors. Investors should use the analysis provided by this report as one input into formulating an investment opinion and should consult with their Financial Advisor. Additional inputs should include, but are not limited to, the review of other strategy reports generated by OAM, its affiliates, and looking at alternate analyses. Securities and other financial instruments that may be discussed in this report or recommended or sold by OPCO or OAM are not insured by the Federal Deposit Insurance Corporation and are not deposits or obligations of any insured depository institution. Investments involve numerous risks including market risk, counterparty default risk and liquidity risk. Securities and other financial investments at times may be difficult to value or sell. The value of financial instruments may fluctuate, and investors may lose their entire principal investment.
Strategist Certification - The author certifies that this strategy report accurately states his/her personal views about the subject matter reflected in the substance of this report. The author certifies that no part of his/her compensation was, is, or will be directly or indirectly related to the specific recommendations or views contained in this strategy report.
Potential Conflicts of Interest: Strategic analysts employed by OAM are compensated from revenues generated by the firm. The strategists authoring this piece also contribute to an OAM managed portfolio product that relies on and trades on the information contained herein. The managed portfolio strategy trades frequently, both ahead of and after the publication of this report. OAM generally prohibits any analyst and any member of his or her household from executing trades in the securities of a company that such analyst covers. Additionally, OAM generally prohibits any analyst from serving as an officer, director or advisory board member of a company that such analyst covers. In addition to 1% (or more) ownership positions in covered companies that are required to be specifically disclosed in this report, OPCO may have a long positon of less than 1% or a short position or deals as principal in the securities discussed herein, related securities or in options, futures or other derivative instruments based thereon and makes a market in the securities discussed herein. Recipients of this report are advised that any or all of the foregoing arrangements, as well as more specific disclosures set forth below, may at times give rise to potential conflicts of interest.
Third Party Research Disclosure OAM has a research sharing agreement with OPCO pursuant to which OPCO provides OAM Strategy thought pieces to its institutional and retail customers. OPCO does not guarantee that the information in OAM Strategy reports is accurate, complete or timely, nor does OPCO make any warranties with regard to the strategy product or the results obtained from its use. OPCO has no control over or input with respect to opinions found in OAM strategy pieces. OAM is a registered investment adviser affiliate of OPCO.
This report is issued and approved by Oppenheimer & Co. Inc., a member of all Principal Exchanges, and SIPC. This report is distributed by Oppenheimer & Co. Inc., for informational purposes only, to its institutional and retail investor clients. This report does not constitute an offer or solicitation to buy or sell any securities discussed herein in any jurisdiction where such offer or solicitation would be prohibited. The securities mentioned in this report may not be suitable for all types of investors. This report does not take into account the investment objectives, financial situation or specific needs of any particular client of Oppenheimer & Co. Inc. Recipients should consider this report as only a single factor in making an investment decision and should not rely solely on investment recommendations contained herein, if any, as a substitution for the exercise of independent judgment of the merits and risks of investments. The strategist writing this report is not a person or company with actual, implied or apparent authority to act on behalf of any issuer mentioned in the report. Before making an investment decision with respect to any security discussed in this report, the recipient should consider whether such investment is appropriate given the recipient's particular investment needs, objectives and financial circumstances. We recommend that investors independently evaluate particular investments and strategies, and encourage investors to seek the advice of a financial advisor. Oppenheimer & Co. Inc. will not treat non-client recipients as its clients solely by virtue of their receiving this report. Past performance is not a guarantee of future results, and no representation or warranty, express or implied, is made regarding future performance of any security mentioned in this report. The price of the securities mentioned in this report and the income they produce may fluctuate and/or be adversely affected by exchange rates, and investors may realize losses on investments in such securities, including the loss of investment principal.
Oppenheimer & Co. Inc. accepts no liability for any loss arising from the use of information contained in this report. All information, opinions and statistical data contained in this report were obtained or derived from public sources believed to be reliable, but Oppenheimer & Co. Inc. does not represent that any such information, opinion or statistical data is accurate or complete and they should not be relied upon as such. All estimates and opinions expressed herein constitute judgments as of the date of this report and are subject to change without notice. Nothing in this report constitutes legal, accounting or tax advice. Since the levels and bases of taxation can change, any reference in this report to the impact of taxation.
Investment Strategy should not be construed as offering tax advice on the tax consequences of investments. As with any investment having potential tax implications, clients should consult with their own independent tax adviser.

This report may provide addresses of, or contain hyperlinks to, Internet web sites. Oppenheimer & Co. Inc. has not reviewed the linked Internet web site of any third party and takes no responsibility for the contents thereof. Each such address or hyperlink is provided solely for the recipient's convenience and information, and the content of linked third party web sites is not in any way incorporated into this document. Recipients who choose to access such third-party web sites or follow such hyperlinks do so at their own risk. The S&P 500 Index is an unmanaged value-weighted index of 500 common stocks that is generally considered representative of the U.S. stock market. The S&P 500 index figures do not reflect any fees, expenses or taxes. This research is distributed in the UK and elsewhere throughout Europe, as third party research by Oppenheimer Europe Ltd, which is authorized and regulated by the Financial Conduct Authority (FCA). This research is for information purposes only and is not to be construed as a solicitation or an offer to purchase or sell investments or related financial instruments. This report is for distribution only to persons who are eligible counterparties or professional clients and is exempt from the general restrictions in section 21 of the Financial Services and Markets Act 2000 on the communication of invitations or inducements to engage in investment activity on the grounds that it is being distributed in the UK only to persons of a kind described in Article 19(5) (Investment Professionals) and 49(2) High Net Worth companies, unincorporated associations etc.) of the Financial Services and Markets Act 2000 (Financial Promotion) Order 2005 (as amended). It is not intended to be distributed or passed on, directly or indirectly, to any other class of persons. In particular, this material is not for distribution to, and should not be relied upon by, retail clients, as defined under the rules of the FCA. Neither the FCA's protection rules nor compensation scheme may be applied. This report or any portion hereof may not be reprinted, sold, or redistributed without the written consent of Oppenheimer & Co. Inc. Copyright © Oppenheimer & Co. Inc. 2022.