At a Glance
Oppenheimer Asset Management (OAM) is a trusted partner to financial advisors in the Private Client Division. Steeped in a culture driven by dependability and innovation and grounded with a respect for the relationship between financial advisors and clients, OAM's focus is to offer seamless access to an integrated wealth management platform that allows client relationships to flourish. Amid rapidly changing capital markets, OAM offers a unique range of advisory services that align with clients' goals, needs, and objectives.
OAM achieved strong results in 2018 fueled by specialized alternatives for investment management, intuitive technology tools, and a steadfast commitment to client service.


Business Environment
While the market environment was generally favorable throughout most of 2018, competitive, regulatory, and global market forces presented challenges to the business landscape. As a result, market volatility increased in the fourth quarter. As markets change and our business evolves, we remain vigilant about potential headwinds, including technology disruptors, fee compression, and global macro events, to name a few.
OAM views disruptions as opportunities and are focused on ensuring that investment solutions are well timed to address events, fit the future financial advisor/client business model into an ability to provide investment flexibility, adaptability, and choice. Client service means listening to clients' needs and responding with a solution. To that end, OAM will continue to simplify the financial landscape and its endless stream of investment choices. We expect fee-based alternatives to continue to grow and we remain committed to a well-diversified, actively managed investment platform that provides extensive choice and transparency. OAM will remain competitive by providing a platform dedicated to investment choice, high-quality support, and technology that enables the firm's financial advisors to customize advice to each client's financial needs, goals, and aspirations.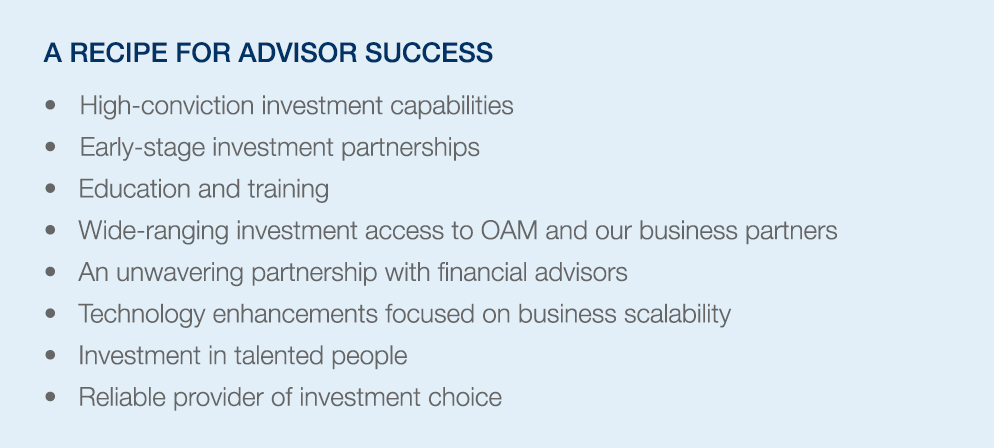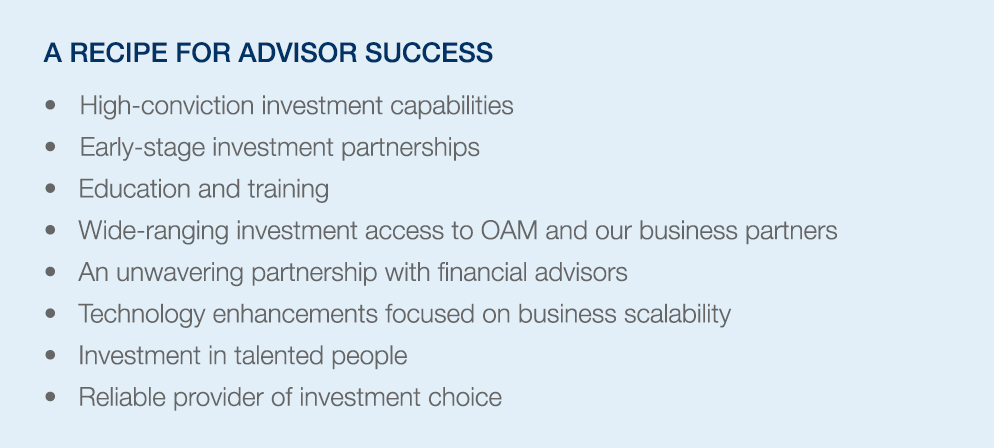 Quotation from Aenean Pretium
OAM achieved strong results in 2018 fueled by specialized investment management alternatives, intuitive technology tools and a steadfast commitment to client service.
Accomplishments
OAM's strategic transformation of its investment advisory programs continued to make great strides in 2018. The following achievements reflect continued commitment to remain competitive and relevant to our financial advisors and clients:
Expanded investment platform with two new strategies and advisory services
Expanded Private Market Opportunities platform with two new investment offerings
The Discovered Managers Series grew to $2.75 billion with 31 managers
The Market Strategy Portfolio surpassed $278.6 million in assets
OMEGA and FAM programs—representing in excess of $3,425.4 billion in OMEGA and $1,114.3 billion in FAM in AUM—were converted to the platform's PASSPORT infrastructure. More than 67.5 percent of the division's assets under management is now managed through PASSPORT
Announced new Sales and Marketing leadership from within and repositioned regional sales effort to better support financial advisors
Hosted a series of regional and national training and education events for financial advisors
Looking Forward
OAM remains focused on equipping financial advisors with the tools needed to deliver customized advice while providing access to a deep network of talented investment professionals. This combination enriches the client experience and forges lasting client relationships. The OAM service model is rooted in education and research through which financial advisors can take advantage of enhanced technology, a broad range of investments, and a premier support organization. OAM prides itself on taking an innovative approach to investing and providing access to information and ideas. Looking ahead, OAM pledges to challenge limits and reach for new heights with creativity, consistency, collaboration, and continuity as we relate to our clients.
$314.3
Million
Fee-Based Revenue
$26.7
Billion
Assets Under Management