Oppenheimer's Mobile App
The Oppenheimer Mobile App, designed for both iOS® and Android® devices, allows Oppenheimer clients with verified access1 to log into their online account via smartphones or tablets.
The app has been updated since its launch, so it keeps getting better – and makes accessing account information, reading current research, and communicating with advisors even easier. This plays a part in Oppenheimer's ongoing and continuous dedication to improving your overall client experience, as well as fortifying and enhancing your relationship with your advisor.
What to Expect After Downloading the App:
Simplicity & Accessibility
The app is available for download on all app stores.
It boasts an easily accessible and efficient interface, and intuitive capabilities.
Users can use both face ID and fingerprint identification on any device.
Efficient Account Monitoring
Users can now group accounts for a higher-level overview, rather than looking at accounts individually.
The app also provides intraday market updates.
A Secure Messaging Center
With the use of the secure messaging center, users can:

Scan and send documents to their advisor directly in the app
Seamlessly communicate with their advisor
Receive real time-alerts, reports, and notifications
The Oppenheimer app supports mobile systems of Android 5 and above and IOS 12 and above.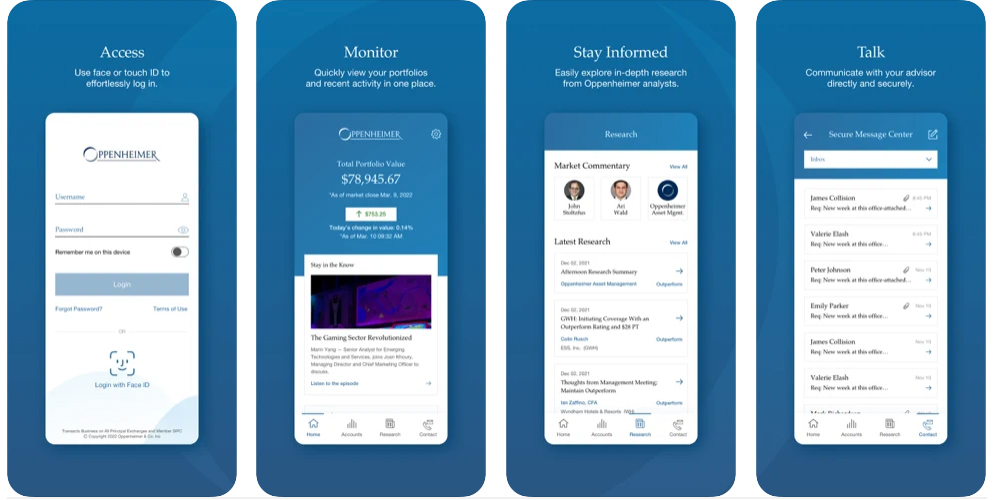 Search for "Opco" in

or

to download the mobile app.
Have any questions? Reach out to an Oppenheimer Financial Professional.


1 In order to use the Opco Mobile App, customers must have a Client Access log in and must have completed the enhanced security verification process.
Apple and the Apple logo are trademarks of Apple Inc., registered in the U.S. and other countries. IOS is a trademark or registered trademark of Cisco in the U.S. and other countries and is used under license.
© 2022 Google Inc. All rights reserved. Android™ platform service is a trademark of Google Inc.
© 2022 Google Inc. All rights reserved. Google Maps™ mapping service is a trademark of Google Inc.