Identifying Institutional Investment Opportunities
Oppenheimer's institutional Blockchain conference focused on cloud-enabled applications. Over 30 leading Blockchain companies, consultants, and projects attended this inaugural year.
The conference topics were heavily organized around three early use-cases: logistics, digital securities, and financial services. Industry thought leaders will discuss the compliance, governance and infrastructure food chain required to enable these applications.
Blockchain has the power to disrupt incumbents in many industries (Insurance, Supply Chain, Healthcare, Financial Services, Security, eCommerce, Social Media). Disruption can act quickly and investors need to know about the risks facing their investments in non-tech verticals. Potential disruption to Wall Street services is a focus and Institutional Portfolio managers and Analysts need to be aware of this.


Quotation from Aenean Pretium
Thank you for attending Oppenheimer's inaugural Blockchain Summit. We hope you found the experience engaging and the content enlightening.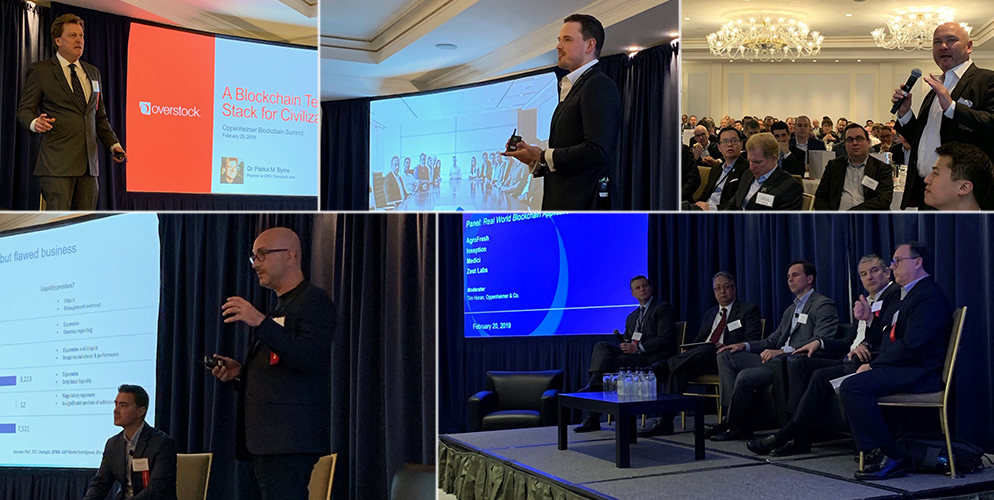 Panel Topics
The panelists discuss what new cloud and internet infrastructure is required for blockchain and the interplay between cloud and blockchain.

Key Questions

What infrastructure is required for crypto networks - How about for enterprise blockchain applications?
Could this be a driver of datacenter space in the future?
What infrastructure will we need to support future public or private blockchain networks?
How does the cloud interplay with blockchain and crypto networks? If blockchain is successful what changes in infrastructure at the networking level?
Does blockchain require new networking technology or equipment, or can we use existing networks?
The panelists detail how they are bringing compliance to digital securities and how these features are embedded into the framework to ensure compliance. The panelists describe which metrics must be under compliance and how this area is handled.

Key Questions

Why do we need digital security tokens?
How is compliance for digital securities different from traditional securities?
What are the issues we are trying to solve with KYC/AML for an industry that breads on anonymity?
What is the state of compliance for digital securities? and how is it evolving?
How do you all approach KYC/AML?
What does tZero do differently than other security token exchanges in terms of compliance?
The panelist will discuss the state of digital currencies. Including the creation, mining, regulation and usage of digital currencies. We will also discuss the proof of stake and new validation techniques.

Key Questions

What has happened to Bitcoin over the past year, price change, upgrades etc?
It seems mining companies have been under pressure as Bitmain cut 50% of its workforce a few moths ago. What other cryptocurrencies do we have as a means of exchange or store of value and why are they more or less competitive (Bitcoin Cash, Litecoin etc). new currencies are focusing on a new consensus mechanism (Proof of stake) over Proof of work like Ethereum with Serenity and Tezos, will this change the landscape for older coins that don't move or is PoW here to stay?
The panelists discuss the real world applications we are seeing in the blockchain space.
Panelists discuss the state of digital securities, which security tokens have been approved, which are in the pipeline. The panel will also detail the state of regulation on digital securities and the roadmap for 2019 and beyond.
The panelists discuss creating real world enterprise applications using blockchain technology and their experience doing this with a wide array of clients.
The panelists discuss the latest in blockchain research; the entire lifecycle of deciding on a topic to research, the research process and then the presentation and distribution of the finished product. The panelists describe common metrics they look for when researching and how these metrics span fundamental to community driven metrics.
The panelists discuss the battle between Bitcoin and Ethereum and how these two digital assets are actually very different, one being a form of money while the other is a platform to build decentralized applications on.
If you are interested in attending, please contact your Institutional Sales contact, Oppenheimer Financial Advisor, or email us.