Asset Management
Market Strategy 11/09/2020
The Way You Do the Things You Do
US voters appeared to favor a softer, less controversial and more conventional presidential style
Key Takeaways
A broad stock rally boosted equity prices across the globe and among market cap segments last week.
A combination of election results in the US, strong economic data, corporate earnings results that often exceeded expectations, and reassuring comments from the Fed favored riskier assets.
The likelihood that Republicans will remain in control of the Senate softened the incumbent's loss for many of his supporters.
With the election behind us, the focus increases on resolving the Congressional gridlock to get another fiscal rescue package enacted.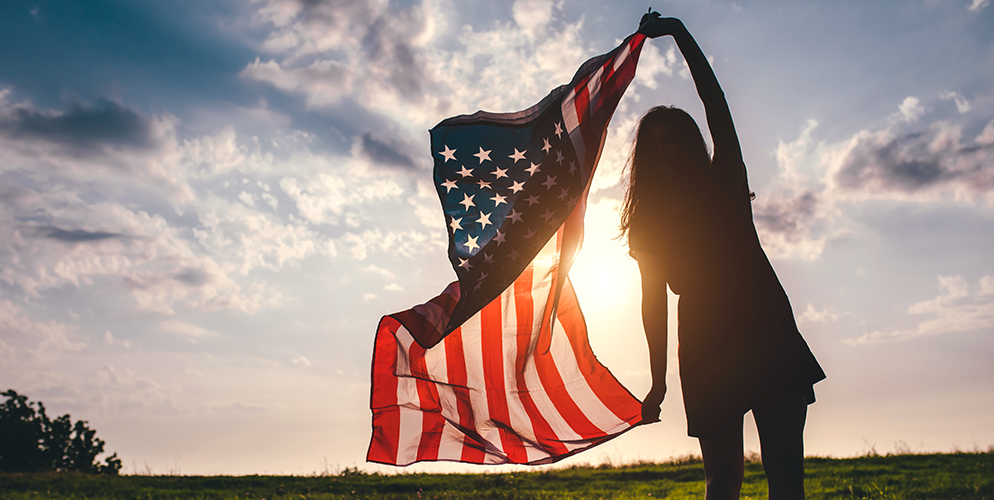 The post-election week here in the US could provide greater clarity as to when to expect a final resolution to the 2020 election. By being declared winner in Pennsylvania, Biden passed the threshold of 270 Electoral College votes needed to capture the presidency. President Donald Trump is weighing legal challenges and has so far refused to concede.
Election week had plenty of noise and action for investors to parse through with the biggest surprise we'd think for both sides being just how close an election it turned out to be. Once again professional pollsters as a group missed the mark on how far ahead or behind either candidate was in various venues around the country. An amateur observer could likely have set them straight early on had they been asked.
Folks in the US remain pretty much divided down the middle when it comes to their political opinions. Don't we all know it as we "pussy foot" around friends and family trying to avoid political chatter that can escalate into real tensions without notice.
In fairness to the pollsters, from what we could tell from speaking with a diverse group of investors on a regular basis is that supporters of the President were simply too private to share their voting intentions with a stranger calling on behalf of a polling organization while in some communities there were Trump supporters who were wary of revealing their choice to a stranger as a result of the violence and looting that broke out in a number of cities and communities over the summer.
Quotation from Aenean Pretium
What appears clear so far is that the equity markets are not adverse to a change of administration stateside at least so long as the Republicans maintain control over the Senate.
For now like The Dude in the movie The Big Lebowski we find it practical and sensible to "abide" with what's widely known so far: including the spontaneous street celebrations in many cities including New York by Biden supporters and the challenges to the results of the election coming from the President and his administration since Election Day.
What appears clear so far is that the equity markets are not averse to a change of administration stateside at least so long as the Republicans maintain control over the Senate. Checks and balances "on the Hill" have been known to be important to investors over the course of history. The present in our view is no exception. That last bit adds a "chad" of uncertainty for the markets to consider in the weeks ahead with the two runoff elections for those two Senate seats in Georgia scheduled for January 5—just 15 days before Inauguration Day (January 20, 2021).
Equity Markets Rallied after the Vote
Last week saw the S&P 500 deliver its second best election week performance in its history (best since 1932 according to Barron's) even as the chances for the incumbent to get re-elected faded and the Democrats racked up the votes through and after Election Day as the vote count continued into the weekend.
On the week the Dow Jones Industrial average, S&P 500, the S&P 400 (mid-caps), the Russell 2000 (small- caps) and the NASDAQ Composite (with over 40% weighted in tech or tech related stocks) respectively gained: 6.9%, 7.32%, 6.74%, 6.87% and 9.01%.
It wasn't just the election's suggestion that the Republicans could retain control of the Senate that underpinned the market last week but continued better than expected Q3 results by companies in the S&P 500, economic data tied to job gains and a sharp decline in the unemployment rate. The ISM surveys showed businesses gaining confidence and new orders rising. In addition the outcome from the Fed's FOMC meeting reinforced the Fed's commitment to see the US economy through the challenges that remain from the Covid-19 pandemic crisis.
As we entered the new week ahead of Monday's opening in New York equity futures were again on the rise and the dollar lost ground to a number of currencies. The yield on the 10-year Treasury which closed last Friday to yield 0.818% edged modestly higher on Sunday evening. With a little more than 12 hours ahead before the opening in New York we will avoid "counting our chickens until they hatch."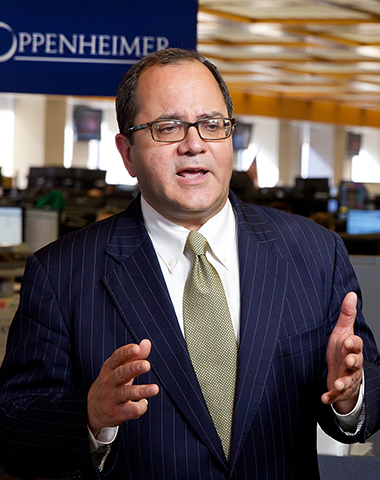 Name:
John Stoltzfus
Title:
Chief Investment Strategist, Oppenheimer Asset Management Inc.
John is one of the most popular faces around Oppenheimer: our clients have come to rely on his market recaps for timely analysis and a confident viewpoint on the road forward. He frequently lends his expertise to CNBC, Bloomberg, Fox Business, and other notable networks.
/asset-management/john-stoltzfus.aspx
Additional Market Insights
OTHER DISCLOSURES
This report is issued and approved by Oppenheimer & Co. Inc., a member of all Principal Exchanges, and SIPC. This report is distributed by Oppenheimer & Co. Inc., for informational purposes only, to its institutional and retail investor clients. This report does not constitute an offer or solicitation to buy or sell any securities discussed herein in any jurisdiction where such offer or solicitation would be prohibited. The securities mentioned in this report may not be suitable for all types of investors. This report does not take into account the investment objectives, financial situation or specific needs of any particular client of Oppenheimer & Co. Inc. Recipients should consider this report as only a single factor in making an investment decision and should not rely solely on investment recommendations contained herein, if any, as a substitution for the exercise of independent judgment of the merits and risks of investments. The strategist writing this report is not a person or company with actual, implied or apparent authority to act on behalf of any issuer mentioned in the report. Before making an investment decision with respect to any security discussed in this report, the recipient should consider whether such investment is appropriate given the recipient's particular investment needs, objectives and financial circumstances. We recommend that investors independently evaluate particular investments and strategies, and encourage investors to seek the advice of a financial advisor. Oppenheimer & Co. Inc. will not treat non-client recipients as its clients solely by virtue of their receiving this report. Past performance is not a guarantee of future results, and no representation or warranty, express or implied, is made regarding future performance of any security mentioned in this report. The price of the securities mentioned in this report and the income they produce may fluctuate and/or be adversely affected by exchange rates, and investors may realize losses on investments in such securities, including the loss of investment principal.
Oppenheimer & Co. Inc. accepts no liability for any loss arising from the use of information contained in this report. All information, opinions and statistical data contained in this report were obtained or derived from public sources believed to be reliable, but Oppenheimer & Co. Inc. does not represent that any such information, opinion or statistical data is accurate or complete and they should not be relied upon as such. All estimates and opinions expressed herein constitute judgments as of the date of this report and are subject to change without notice. Nothing in this report constitutes legal, accounting or tax advice. Since the levels and bases of taxation can change, any reference in this report to the impact of taxation.
Investment Strategy should not be construed as offering tax advice on the tax consequences of investments. As with any investment having potential tax implications, clients should consult with their own independent tax adviser.

This report may provide addresses of, or contain hyperlinks to, Internet web sites. Oppenheimer & Co. Inc. has not reviewed the linked Internet web site of any third party and takes no responsibility for the contents thereof. Each such address or hyperlink is provided solely for the recipient's convenience and information, and the content of linked third party web sites is not in any way incorporated into this document. Recipients who choose to access such third-party web sites or follow such hyperlinks do so at their own risk. The S&P 500 Index is an unmanaged value-weighted index of 500 common stocks that is generally considered representative of the U.S. stock market. The S&P 500 index figures do not reflect any fees, expenses or taxes. This research is distributed in the UK and elsewhere throughout Europe, as third party research by Oppenheimer Europe Ltd, which is authorized and regulated by the Financial Conduct Authority (FCA). This research is for information purposes only and is not to be construed as a solicitation or an offer to purchase or sell investments or related financial instruments. This report is for distribution only to persons who are eligible counterparties or professional clients and is exempt from the general restrictions in section 21 of the Financial Services and Markets Act 2000 on the communication of invitations or inducements to engage in investment activity on the grounds that it is being distributed in the UK only to persons of a kind described in Article 19(5) (Investment Professionals) and 49(2) High Net Worth companies, unincorporated associations etc.) of the Financial Services and Markets Act 2000 (Financial Promotion) Order 2005 (as amended). It is not intended to be distributed or passed on, directly or indirectly, to any other class of persons. In particular, this material is not for distribution to, and should not be relied upon by, retail clients, as defined under the rules of the FCA. Neither the FCA's protection rules nor compensation scheme may be applied. This report or any portion hereof may not be reprinted, sold, or redistributed without the written consent of Oppenheimer & Co. Inc. Copyright © Oppenheimer & Co. Inc. 2020.