Asset Management
Market Strategy 11/16/2020
News of a vaccine that's 90% effective against the coronavirus extended the prior week's equity market gains
Key Takeaways
Further evidence of the appeal of riskier assets carried the S&P 500 and the Russell 2000 to new record highs last week.
With interest rates low and rising prospects for the launch of an effective vaccine potentially by year-end, equity markets seem to be projecting a postCovid environment. This comes even as resurgences in the deadly virus raise concerns that drastic actions may be required for stemming its spread.
Economic data and earnings results for Q3 released last week continue to evidence resilience of the US economy even in challenged circumstances.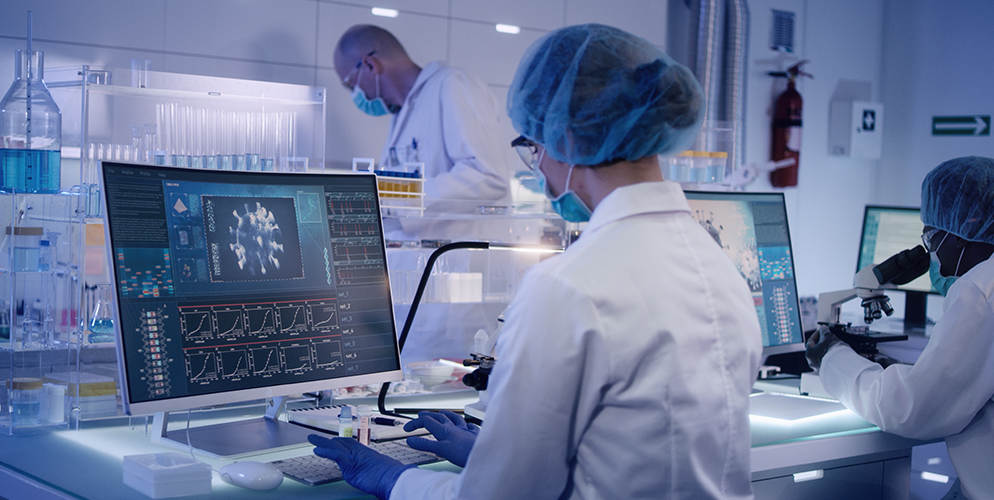 The age old axiom that "markets don't like uncertainty" gained some further credence last week as a major US drug company announced progress on a vaccine that could possibly curb the spread of Covid-19. This news gave a boost to stock prices and to investor sentiment that favored riskier assets, adding further momentum to an ongoing rotation into small caps and other value-oriented segments of the stock market.
The Dow Jones Industrials and the S&P 500 respectively advanced 4.08% and 2.2% last week with the S&P500 closing at a new record high of 3585.15 last Friday. The Russell 2000 (small caps) index surged 6.08% last week and achieved its first new record high close since the end of August, 2018.
The tech laden NASDAQ (over 40% weighted in tech or tech related stocks) slipped 0.55% last week as investor appetite broadened toward value oriented stocks and small cap stocks stateside while some investors likely took profits in tech stocks in anticipation that capital gains taxes could rise sharply under the incoming Biden administration in 2021.
In the international realm where developed nation market indices are often heavily weighted toward value-oriented names, stocks got a boost as well as investors sought out cyclically sensitive stocks that could benefit from less risky economic reopenings supported by the availability of a vaccine or even several vaccines of sufficient efficacy to thwart the pandemic. Last week the Stoxx Euro 600 and the MSCI EAFE index (developed international equities ex-US and Canada) respectively rose 5.13% and 3.84%. The MSCI world market index that tracks developed markets (not emerging markets) also closed at a record high on Friday.
Quotation from Aenean Pretium
Information technology remains entrenched for now as the key driver along with globalization of regional growth trends across the developed, emerging and frontier markets.
As we prepared to go to press with this publication stateside in New York on Sunday evening Asian stocks were moving higher and futures on stateside equity markets were indicating a higher opening in North America when markets open.
The boost to Asian stocks at their opening could be in part linked to an announcement of a trade agreement amongst China, Japan and South Korea, as well as nine other countries that was signed on Sunday and was touted in the press to be the world's largest regional free-trade agreement. According to Bloomberg News the pact known as the Regional Comprehensive Economic Partnership (RCEP) covers a region comprised of a third of the world's population and GDP.
Don't Count Technology Out
The rise in equity futures tied to the US market was in part attributed to remarks made by two advisers to President-Elect Joe Biden who said that they were against a nationwide lockdown in the US notwithstanding the current resurgence of Covid-19 indicating that they favored targeted measures to specific resurgences rather than a broad or blunt response to resurgences of the pandemic virus.
In the week ahead investors will have plenty to ponder. We'd expect they are likely to continue to seek out segments of the equity market poised to benefit from a post-Covid environment; news on vaccines; political developments in Washington, D.C. in anticipation of a transition in administrations; economic data including releases scheduled this week on: retail sales industrial activity, housing, jobs and unemployment claims; as well as Q3 earnings season with some 10% of the S&P 500's member companies still left to report results.
In our view the current rotation from some of the FAANG names and other companies tied to them is likely more attributable to profit-taking after a long profitable run ahead of the potential hike in capital gains taxes next year rather than concern that the momentum in technology is running out of steam longer term. From our perch on the Market Radar Screen information technology remains entrenched for now as the key driver along with globalization of regional growth trends across the developed, emerging and frontier markets. The ubiquitous nature of technology is embedded across broad segments of the world economy including business, the consumer and governmental entities.
All 11 sectors (the GICs) appear poised to continue to benefit from deployment of technology in the near, the intermediate and longer term whether it is to maintain a competitive edge, gain an advantage or simply maintain or create a value narrative worthy of investors' interest, loyalty and investment.
Consumers' relationship with technology appears likely to broaden further with the introduction of 5G connectivity, increased use of technology in the work place and home, and a virtuous upgrade cycle tied to a world of technology innovation that has progressed from hardware to software to subscription-ware making tech more accessible and affordable.
The recent increase in the 10-year Treasury yield appears to us as a mix of seasonal pricing, which tends to drive yields up towards the end of the calendar year, in addition to prospects for further weakening of the dollar as demand for US safe haven assets lessens as progress is made against Covid-19 and the green shoots of a sustainable economic recovery stateside appear poised to lead the globe into a broader economic recovery.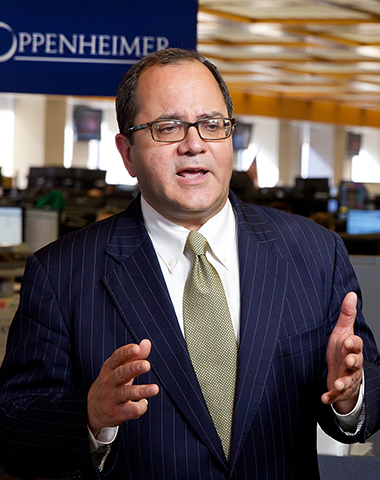 Name:
John Stoltzfus
Title:
Chief Investment Strategist, Oppenheimer Asset Management Inc.
John is one of the most popular faces around Oppenheimer: our clients have come to rely on his market recaps for timely analysis and a confident viewpoint on the road forward. He frequently lends his expertise to CNBC, Bloomberg, Fox Business, and other notable networks.
/asset-management/john-stoltzfus.aspx
Additional Market Insights
OTHER DISCLOSURES
This report is issued and approved by Oppenheimer & Co. Inc., a member of all Principal Exchanges, and SIPC. This report is distributed by Oppenheimer & Co. Inc., for informational purposes only, to its institutional and retail investor clients. This report does not constitute an offer or solicitation to buy or sell any securities discussed herein in any jurisdiction where such offer or solicitation would be prohibited. The securities mentioned in this report may not be suitable for all types of investors. This report does not take into account the investment objectives, financial situation or specific needs of any particular client of Oppenheimer & Co. Inc. Recipients should consider this report as only a single factor in making an investment decision and should not rely solely on investment recommendations contained herein, if any, as a substitution for the exercise of independent judgment of the merits and risks of investments. The strategist writing this report is not a person or company with actual, implied or apparent authority to act on behalf of any issuer mentioned in the report. Before making an investment decision with respect to any security discussed in this report, the recipient should consider whether such investment is appropriate given the recipient's particular investment needs, objectives and financial circumstances. We recommend that investors independently evaluate particular investments and strategies, and encourage investors to seek the advice of a financial advisor. Oppenheimer & Co. Inc. will not treat non-client recipients as its clients solely by virtue of their receiving this report. Past performance is not a guarantee of future results, and no representation or warranty, express or implied, is made regarding future performance of any security mentioned in this report. The price of the securities mentioned in this report and the income they produce may fluctuate and/or be adversely affected by exchange rates, and investors may realize losses on investments in such securities, including the loss of investment principal.
Oppenheimer & Co. Inc. accepts no liability for any loss arising from the use of information contained in this report. All information, opinions and statistical data contained in this report were obtained or derived from public sources believed to be reliable, but Oppenheimer & Co. Inc. does not represent that any such information, opinion or statistical data is accurate or complete and they should not be relied upon as such. All estimates and opinions expressed herein constitute judgments as of the date of this report and are subject to change without notice. Nothing in this report constitutes legal, accounting or tax advice. Since the levels and bases of taxation can change, any reference in this report to the impact of taxation.
Investment Strategy should not be construed as offering tax advice on the tax consequences of investments. As with any investment having potential tax implications, clients should consult with their own independent tax adviser.

This report may provide addresses of, or contain hyperlinks to, Internet web sites. Oppenheimer & Co. Inc. has not reviewed the linked Internet web site of any third party and takes no responsibility for the contents thereof. Each such address or hyperlink is provided solely for the recipient's convenience and information, and the content of linked third party web sites is not in any way incorporated into this document. Recipients who choose to access such third-party web sites or follow such hyperlinks do so at their own risk. The S&P 500 Index is an unmanaged value-weighted index of 500 common stocks that is generally considered representative of the U.S. stock market. The S&P 500 index figures do not reflect any fees, expenses or taxes. This research is distributed in the UK and elsewhere throughout Europe, as third party research by Oppenheimer Europe Ltd, which is authorized and regulated by the Financial Conduct Authority (FCA). This research is for information purposes only and is not to be construed as a solicitation or an offer to purchase or sell investments or related financial instruments. This report is for distribution only to persons who are eligible counterparties or professional clients and is exempt from the general restrictions in section 21 of the Financial Services and Markets Act 2000 on the communication of invitations or inducements to engage in investment activity on the grounds that it is being distributed in the UK only to persons of a kind described in Article 19(5) (Investment Professionals) and 49(2) High Net Worth companies, unincorporated associations etc.) of the Financial Services and Markets Act 2000 (Financial Promotion) Order 2005 (as amended). It is not intended to be distributed or passed on, directly or indirectly, to any other class of persons. In particular, this material is not for distribution to, and should not be relied upon by, retail clients, as defined under the rules of the FCA. Neither the FCA's protection rules nor compensation scheme may be applied. This report or any portion hereof may not be reprinted, sold, or redistributed without the written consent of Oppenheimer & Co. Inc. Copyright © Oppenheimer & Co. Inc. 2020.