Oppenheimer
Connecting.Caring During Covid-19
Connecting.Caring is Oppenheimer's philanthropic initiative that helps contribute towards a variety of charitable causes. In light of recent COVID-19 events, our Oppenheimer employees have been contributing to their communities independently, in order to provide relief in these uncertain times.
Christel Good in Leawood, Kansas, shares her story: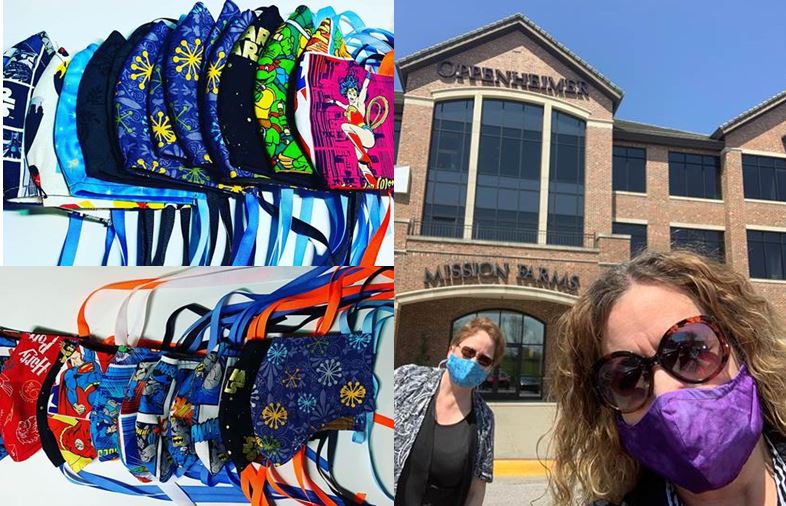 "During this stay-at-home order our Operations Manager, Marla Hart and I have been holding down the fort here in the Leawood, KS office. We have been quite busy during the day but I still have quite a bit of downtime in the evenings and weekends as most (if not all) of our activities have been halted. I'm not one to sit still so I decided to use my extensive fabric stash to make cloth face masks for friends and family. Word quickly spread and I started making more masks and donating to folks all over the country. I have shipped masks to NY, CA, GA, IA, LA, NJ, KS, MO, TX, NC, OH, PA and MD. The masks range in size toddler to adult large. The masks are made of cotton fabric and they are not medical grade.
Eventually I ran out of extra fabric. That's when family members, friends and coworkers like Marla Hart stepped up and donated fabric, thread, elastic and ribbon so I could keep going. I've even recycled old jeans and made a few masks out of denim. I'm excited to say I have obtained enough fabric and thread and have begun working on my second group of facemasks which will put the final numbers well over 300 masks given away."
Another notable effort is happening on the east coast. Kathleen Lombardo, from our Cheshire, CT branch makes ear savers and donated them to her local hospitals and fire department; she also makes sure that those she knows in the healthcare field are well equipped.
These ear savers go behind the medical mask to alleviate the pressure and strain on the back of the ears from wearing mask all day. She made them using plastic folders and her cricut machine at her dining room table.
She says "While it takes around 16 hours to make 300, it's totally worth it, to be able to help in a small way."
View our Philanthropy page to learn more about the efforts of Oppenheimer employees during this time.
This post is not a request or used for the purpose for seeking donations.