Wealth Management
Meet Our Working Mother and SHOOK's Top Wealth Advisor Mom
Sandra Chism is the winner of Working Mother and SHOOK Research's 2021 Top Wealth Advisor Moms. According to Sandra, teamwork is the key, both at home and work. At home, her husband is a stay-at-home dad, which provides Sandra the freedom to work the hours she chooses, especially during school breaks and Summer vacation. At work, her team has been together for several decades. Their understanding and flexibility for each others' family obligations is essential to their success. Sandra says, "Schedules and coverage are the key to making this work, and technology helps tremendously'. She adds, "The ability to access the markets and company news, and to correspond with the team and clients 24/7 with just a phone makes it easier to be away from the office during these times, for both professional development and for family events. The same holds for the entire team."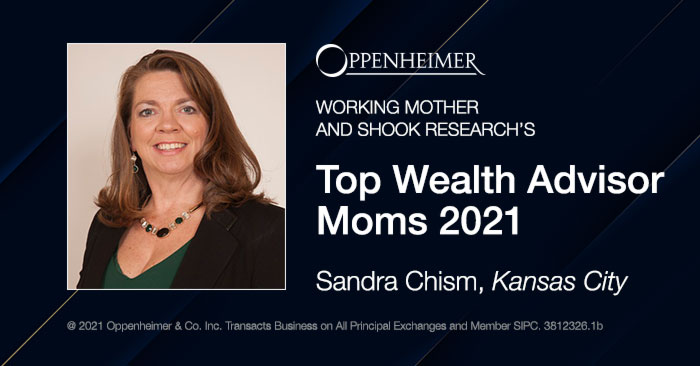 Sandra feels being named to this list list not only validates that 'it can be done', but that the challenge is real. She says, "You cannot be in this business and not be somewhat of a perfectionist. Striving for this, for both clients and family, is a juggling act. It is an honor to be recognized with others who clearly want it all."
Please visit Sandra's team website for her complete bio, services,
and contact information, at Kansas City Capital Associates.
Disclosure
Oppenheimer & Co. Inc. is not affiliated with Forbes or Shook Research. These rankings combine both quantitative and qualitative measures, including: in-person interviews, industry experience, community involvement, client retention data and revenue trends.
Oppenheimer & Co. Inc. (Oppenheimer), a principal subsidiary of Oppenheimer Holdings Inc. (OPY on the New York Stock Exchange), and its affiliates provide a full range of wealth management, securities brokerage and investment banking services to high-net-worth individuals, families, corporate executives, local governments, businesses and institutions.