Investment Banking
Exclusive M&A and Debt Advisor to AlphaPet Ventures
Oppenheimer is pleased to have supported AlphaPet Ventures on its acquisition of Arden Grange. Oppenheimer acted as AlphaPet's Exclusive Financial Advisor regarding M&A and related Debt Re-Financing.
On 16th February, 2022, AlphaPet Ventures ("AlphaPet") closed the acquisition of Arden Grange, a leading UK-based brand in the premium dog food segment. Oppenheimer Europe ("Oppenheimer") acted as AlphaPet's exclusive financial advisor.
Headquartered in Germany, AlphaPet is a digital brand platform and an online leader in the premium pet food market. Its portfolio of eight leading brands includes Wolfsblut, Wildes Land and Müller's Naturhof. Through its ecommerce channels, the company has direct access to over one million direct customers, as well as an offline presence at more than 13,000 PoS through a strong network of retail partners. AlphaPet will continue on its successful trajectory, including both organic and strategic growth.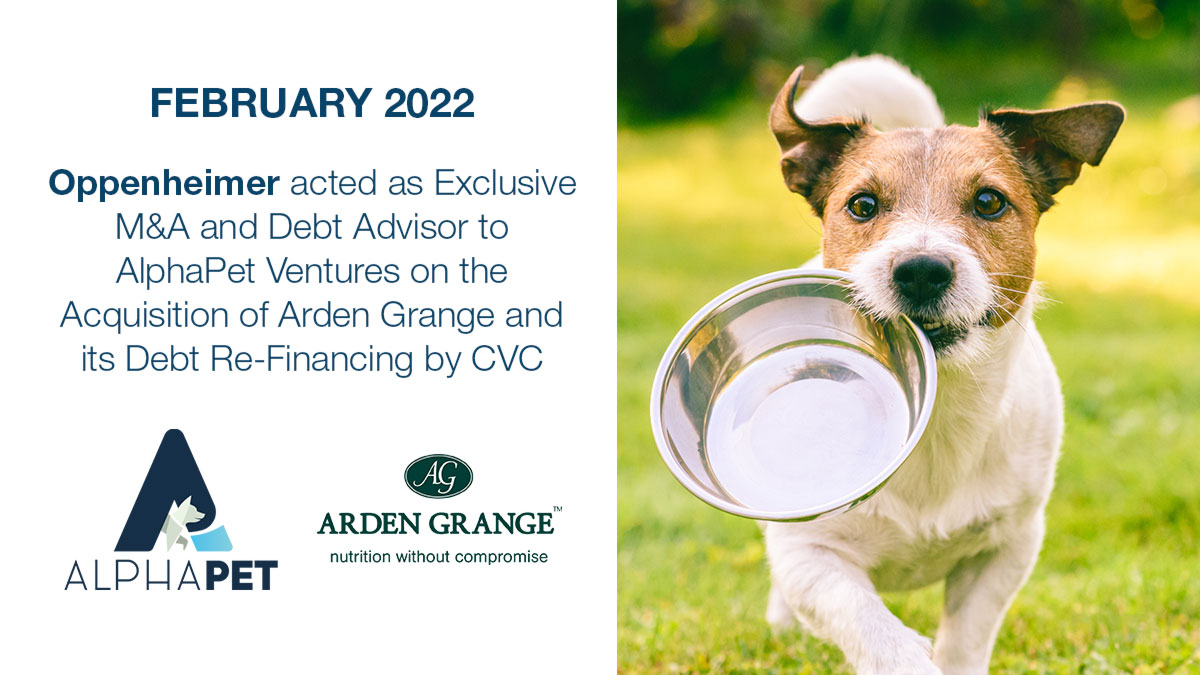 Arden Grange is one of the leading premium pet food brands in the UK. The business is founded on the core philosophy of "nutrition without compromise" with ingredients being selected to promote optimum health and vitality in pets. This approach is widely recognised and appreciated by pet parents who value the high quality of the products. Jointly, AlphaPet and Arden Grange are building on the existing and long-standing supplier and customer relationships and look forward to expanding these further.
The transaction reinforces Oppenheimer's position as the advisor of choice for founder-owned, high growth businesses and also for complex, cross-border transactions at the consumer-technology intersection. This follows Oppenheimer advising pet services provider Wag! on the announced business combination with CHW Acquisition Corporation.
Lars Dürschlag, Managing Director and Head of DACH Investment Banking at Oppenheimer, commented: "We are delighted that we were able to support AlphaPet during the acquisition of Arden Grange as well as regarding the related debt funding by CVC. The transaction further underscores the advantages of a globally-integrated, full-service investment banking effort. Oppenheimer will continue to support AlphaPet in developing a long-term strategic platform within a highly attractive growth market."
James Murray, Managing Director Consumer Investment Banking at Oppenheimer, added: "AlphaPet is a leading digital pet player in Europe and Arden Grange represents a great opportunity for AlphaPet to develop its UK operations. Our team has a strong track record and significant experience in the pet and ecommerce sectors. This knowledge and insight was crucial in helping to deliver a successful transaction. We very much look forward to working with the AlphaPet team going forward."
DISCLOSURES
Oppenheimer Europe Ltd is authorised and regulated by the Financial Conduct Authority and is a member of the London Stock Exchange.
2021 Oppenheimer & Co. Inc. Transacts Business on all Principal Exchanges and Member SIPC 4333611.1

This notice is provided for informational purposes only, and is not intended as a recommendation or an offer or solicitation for the purchase or sale of any security or financial instrument. Nothing contained herein shall constitute an offer or solicitation to buy or sell any securities discussed herein in any jurisdiction where such offer or solicitation would be prohibited.

This notice may contain statistical data cited from third-party sources believed to be reliable, but Oppenheimer & Co. Inc. does not represent that any such third-party statistical information is accurate or complete, and it should not be relied upon as such. All market prices, data and other information are not warranted as to completeness or accuracy and are subject to change without notice.