Investment Banking
Exclusive Financial Advisor to Kingswood Acquisition Corp.
July 2022
Oppenheimer & Co. Inc. is acting as Exclusive Financial Advisor to Kingswood Acquisition Corp. (NYSE:KWAC) on its announced business combination with Wentworth Management Services, LLC ("Wentworth").
Wentworth is a holding company that acquires and manages businesses in the wealth management industry. The company specializes in consolidating independent broker-dealers to capture economies of scale needed to service financial advisors in today's technology-enabled regulatory environment. Wentworth's core philosophy focuses on building long-term, productive relationships with its advisor base. The firm also includes a dealer manager business, investment banking division and a wholesale distribution division.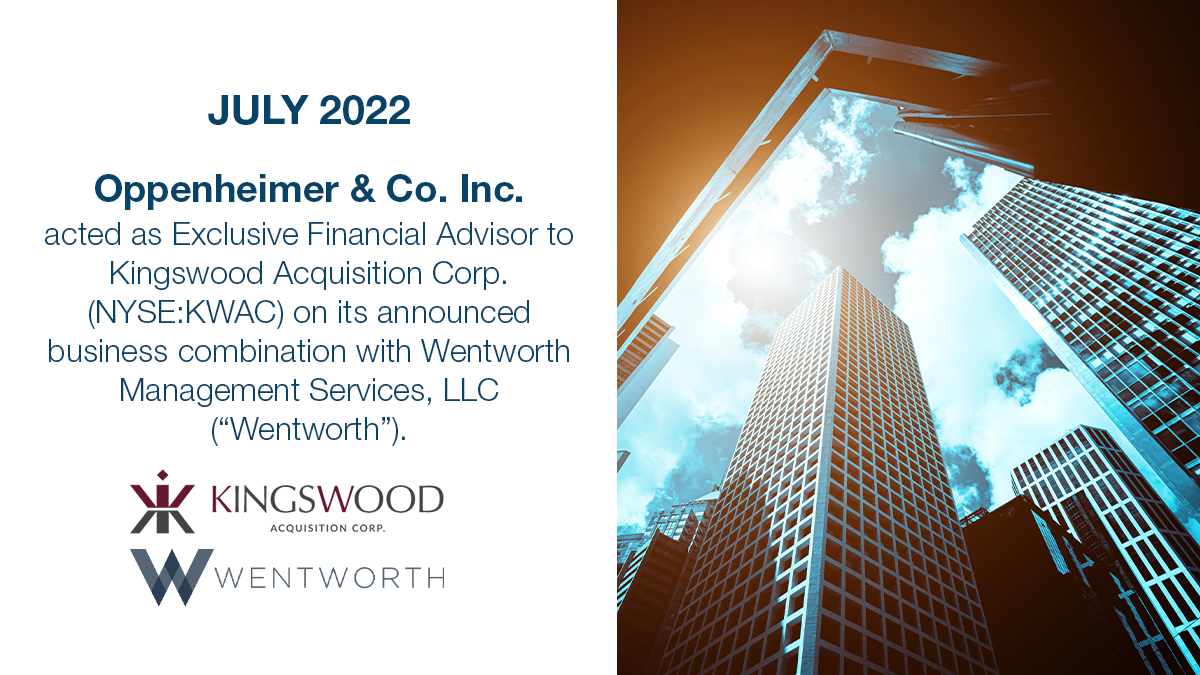 Kingswood Acquisition Corp. ("KWAC") is a blank check company incorporated under the laws of the State of Delaware on July 27, 2020, for the purpose of effecting a merger, share exchange, asset acquisition, stock purchase, recapitalization, reorganization, or similar business combination with one or more businesses.
In November 2020, Oppenheimer & Co. Inc. served as Sole Bookrunner on Kingswood Acquisition Corp's $115,000,000 Initial Public Offering.
The new public company, will become wholly-owned subsidiaries of Binah Capital Group, Inc., which will own and operate four broker-dealers and over 1,900 financial advisors, who will work from 535 offices in all 50 states, and be connected through a hybrid, open architecture platform that will allow advisors to choose between hybrid, independent and W2 advisor models, as well as partner with a variety of custody and clearing firms.
The business combination values the combined company at a pro forma enterprise value of approximately $208 million, which represents an approximately 1.1x 2021 pro forma revenue multiple. The business combination is expected to generate gross cash proceeds of approximately $30 million, which will be used to pay transaction expenses and provide growth capital for the business.
Gilbert Dychiao
Managing Director, Head of FIG
Michael Lynch
Managing Director, Head of M&A
Chris Defalco
Managing Director, Head of SPAC ECM
DISCLOSURES
2022 Oppenheimer & Co. Inc. Transacts Business on all Principal Exchanges and Member SIPC 4846113.1

This notice is provided for informational purposes only, and is not intended as a recommendation or an offer or solicitation for the purchase or sale of any security or financial instrument. Nothing contained herein shall constitute an offer or solicitation to buy or sell any securities discussed herein in any jurisdiction where such offer or solicitation would be prohibited.

This notice may contain statistical data cited from third-party sources believed to be reliable, but Oppenheimer & Co. Inc. does not represent that any such third-party statistical information is accurate or complete, and it should not be relied upon as such. All market prices, data and other information are not warranted as to completeness or accuracy and are subject to change without notice.