Investment Banking
Exclusive Financial Advisor to QBE International
Oppenheimer acted as Exclusive Financial Advisor to QBE International on the sale of selected Irish commercial insurance portfolios to Ascot Group via a renewal rights transaction
Oppenheimer's European FIG Investment Banking Team is pleased to have acted as Exclusive Financial Advisor to QBE on signing the sale of selected Irish commercial insurance portfolios to Ascot Group
On 26th September, 2022, QBE International signed an agreement to sell selected Irish commercial insurance portfolios to Ascot via a renewal rights transaction. Oppenheimer Europe acted as QBE's exclusive financial adviser.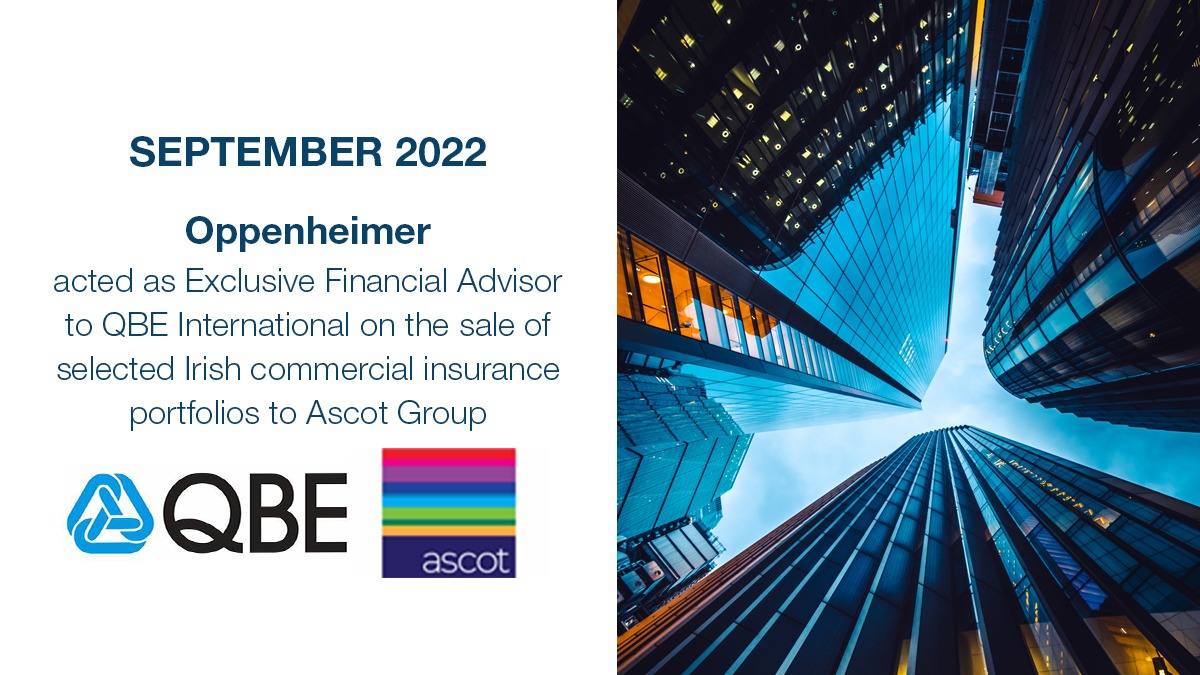 This transaction cements Oppenheimer's position as a leading sell-side M&A advisor in the insurance space. This follows Oppenheimer advising BDB Holdings on its competed sale to Brown & Brown, Inc. in February 2022.
This sale follows QBE's decision earlier this year to conduct a phased withdrawal from underwriting certain Republic of Ireland-domiciled direct insurance business. QBE will continue to manage and provide ongoing services across all policies until Ascot offers renewal terms. The deal will see Ascot offering renewal terms on the portfolios, while existing back book policies will remain with QBE.
QBE Insurance Group is one of the world's leading international insurers and reinsurers and Standard & Poor's A+ rated. Listed on the Australian Securities Exchange, QBE's gross written premium for the year ended 31 December 2021 was US$18.5 billion. QBE European Operations offers a range of insurance products from the standard suite of property, casualty and motor to the specialist financial lines, marine and energy. All are tailored to the individual needs of their small, medium and large customer base.
DISCLOSURES
Oppenheimer Europe Ltd is authorised and regulated by the Financial Conduct Authority and is a member of the London Stock Exchange.
2022 Oppenheimer & Co. Inc. Transacts Business on all Principal Exchanges and Member SIPC 4967554.1

This notice is provided for informational purposes only, and is not intended as a recommendation or an offer or solicitation for the purchase or sale of any security or financial instrument. Nothing contained herein shall constitute an offer or solicitation to buy or sell any securities discussed herein in any jurisdiction where such offer or solicitation would be prohibited.

This notice may contain statistical data cited from third-party sources believed to be reliable, but Oppenheimer & Co. Inc. does not represent that any such third-party statistical information is accurate or complete, and it should not be relied upon as such. All market prices, data and other information are not warranted as to completeness or accuracy and are subject to change without notice.